Among Verona wines, Durello is the most neglected one. It is not easy living when your "elder brothers" are wines like Amarone, Soave or Lugana, and even Bardolino and Bianco di Custoza are, each for different reason, better known products.
The name Durello comes from the name of the grape varietal Durella, a difficult word to translate that means something like "little hard one". The name refers not only to the thick, hard skin of the grape, but also to the acidic, sharp palate of the wine made with Durella grapes, that in some cases makes it almost hard to drink. Definitely not an easy wine.
The Durello DOC wine producing area is shared by two provinces: Verona and Vicenza. On the west side it borders with Soave DOC wine producing area. On the east side it shares part of its territory with Gambellara DOC wine producing area.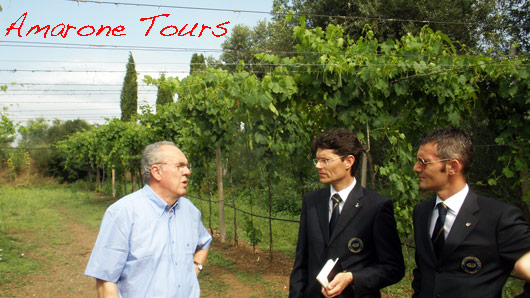 This time, together with the Italian Sommelier Association (AIS) we visited two wineries that in the past 30 years worked hard, investing time, energy and money, introducing the best vine growing and wine making techniques, focusing on quality, to change the perception and prejudice around Durello wine.
First winery is Casa Cecchin, in Montebello, Vicenza province. The winery is located on the hills north-west of Vicenza from where it is possible to enjoy a breathtaking view above the valley.
Mr Cecchin, an austere engineer, decided to follow his passion for wine together with his daughter and founded the winery in 1978. The nice building is surrounded by a beautiful garden with blossoming lavender and by the 6 hectares (15 acres) of vineyards.
We start from the vineyard where Mr Checchin shows us the very peculiar soil of Durello wine producing areas. The hill stands on a layer of volcanic stone, mainly basalt, few kilometers thick, and spalls of dark, greish, red rock are mixed everywhere in the soil of the vineyard. Of course the soil has a very important role in the brisk mineral savoury of Durello wine.
Durella vine has an incredible power and thanks to the regular rains of this first six months of 2012, the vineyard looks like a "jungle". Growing system is the "pergola". A guyot training system would compress to much the vitality of the vine. Mr Cecchin, in order to balance the overgrowth, increased the number of vines per hectar and when needed, intervenes with green harvest. Grapes, with green little berries are already formed while in the neighboring Soave, Garganega vine has just started blooming. Another proof of the vitality of Durella.
In the cellar Mr Cecchin doughter welcome us. She explains how wine making techniques have changed through the years. Nowadays, in order to reduce the tannic component in the wine, bunches are squeezed with a soft pressing and there is no skin contact at all during fermentation. Must is cooled and fermented in order to preserve the perfumes.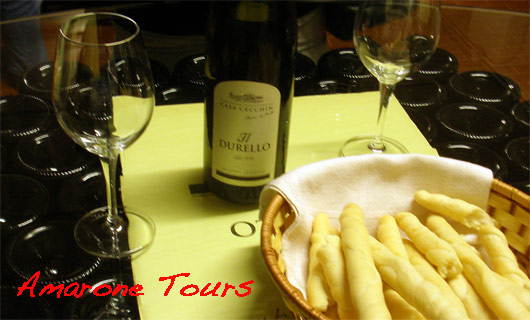 We try 4 different wines: Durello 2011, 2010, 2007 and Durello Superiore 2009.
Durello definitely lives up to its reputation, and proves its sharp acidity, especially perceivable in the youngest vintages. The 2007 starts to get rounder, with well mixed perfumes and hints of dry herbs. It is amazing how a 5 years white wine still appears quite young. A wine that you could almost forget in the cellar.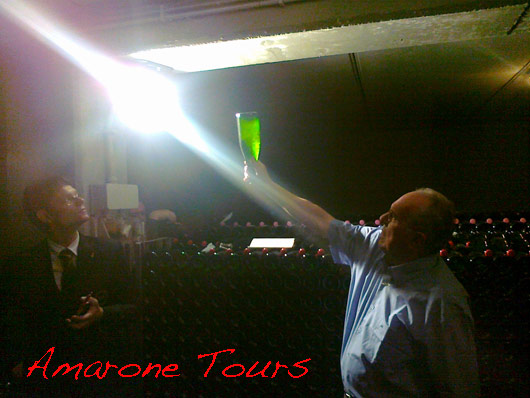 Mr Cecchin takes us in the underground cellar, where we find 30.000 bottles lined up in the dark for the re-fermentation of the classic method. Here they rest a minimum of 30 months, sometimes even 40, in contact with selected yeasts. Once in a while bottles are shaked in order to keep yeasts in contact with the wine and enhance the typical aromas of sparkling wines made with this method. For the remouage, Mr Cecchin patented a particular system. An hexagonal cage with which it is possible to turn and shake more than a hundred bottles at once. The movement is absolutely identical to the one done by hand on the more traditional poupitre and the result is also the same: a perfectly clear wine with all the dead yeasts at the bottom of the collar of the bottle.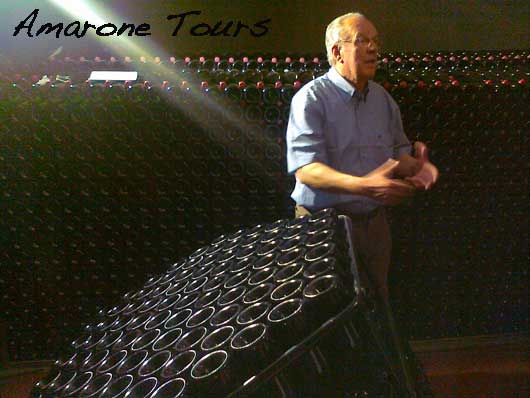 We go back to the tasting room and try the sparkling wine. And now we understand why the Durello consortium is focusing so much on the production of the sparkling version. Durello with its strong acidity is a perfect base wine for the re-fermentation in bottle that gives it more roundness and smoothness especially if done for a prolonged time.
Fongaro
We leave Casa Cecchin winery and with a small drive we are back in Verona province for the visit to our second destination of today. Fongaro winery.
Matteo Fongaro, the young owner of the winery welcome us in the parking area covered by black gravel made of the typical volcanic stone of Durello wine producing area. He is following the footsteps of his grandfather, 93 years old, still working in the cellar and often "exploited", as he often complains, by nephews who use his "image" in events and tastings.
Matteo Fongaro, with his energy and passion decided to bet everything on the traditional method (méthode champenoise) for the production of sparkling wines from Durella grape. It is a general trend in the Durello wine producing area, so much that the it has been created a specific appellation, Lessini Durello DOC, that will identify a spumante wine made with Durella grape, without the need to specify that is a sparkling wine. Matteo Fongaro understood very well how the "wild" character of Durella grape can only be "tamed" with a long secondary fermentation in bottle, for some of their labels, up to 36 months and even longer.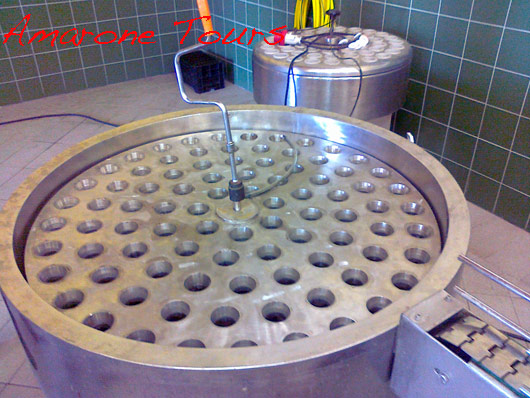 We visit the bottling room, where all the last steps of the classic method occur: sboccatura (disgorgement), dosaggio (re-filling), corking, cleaning and labelling. We are then taken to the underground ageing cellar, where tens of thousands of bottles are resting in the dark piled up into big dark "walls". Here riddling (remuage) is done by hand on the classic pupitre (riddling rack).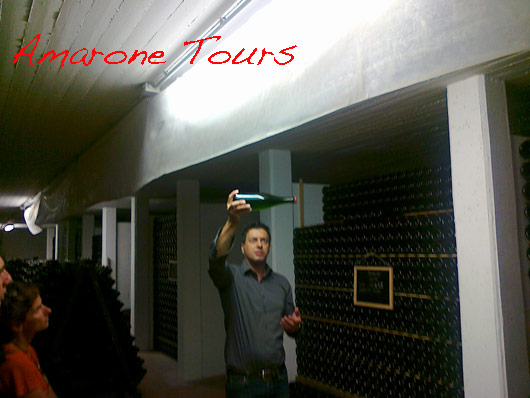 We end our visit with a tasting. This time we have a very unique chance to taste the base wine that will become Durello Metodo Classico 2011 in a couple of years. The wine is not as acidic as one would expect and it shows already a beautiful structure and character.
We then try the Fongaro Viola (purple), one of their best seller. In the selection of yeasts they decided for varietals that do not cover the characteristics of the wines and in fact there aren't those distinct bread-crust, butter, etc that you very often find in other sparkling wines made with classic method. The wine is well balanced.
We then try a Fongaro riserva: 100% Durella grapes, 24 months of re-fermentation in bottle.
Third wine is an "experiment" with a re-fermentation of more that 40 months. An extremely elegant and supple wine Dosaggio Zero (pas dosé).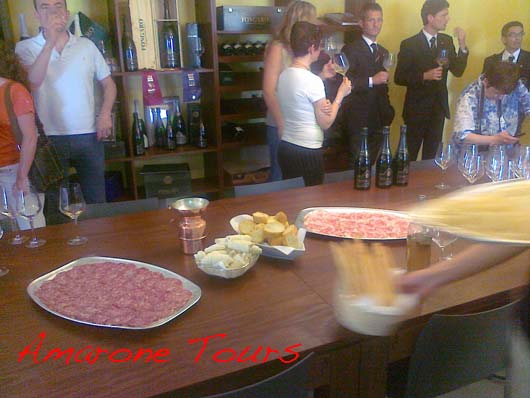 When the wine is drunk alone, the brisk acidity of Durella grape is still perceivable, when the paired with the right food it is perfectly balanced. Matteo Fongaro prepared for us a nice platter of Soppressa Veneta (fat salami with garlic, typical of Vicenza province) and lard with bread. Bubbles and acidity perfectly "clean" the mouth after each bite. The only problem is that in this way you never get tired of eating and drinking…
Durello is still a wine to be discovered and understood and the beautiful landscape of its producing areas, close to beautiful artistic, historical and natural attractions can become an intriguing destinations for those wine connoisseurs who are already familiar with main Italian wines and their wine producing regions and want to experience something new still out of the beaten path. Is like a tourist coming for the first time in Italy. He cannot miss Venice, Florence, Rome. But if he comes for a second time he might be curious to see some out of the beaten path city such as Verona, Bologna, etc. For those who are already familiar with main Italian sparkling wine such as Franciacorta and Trento, Durello, and of course its territory, can be an intriguing alternative.
Amarone Tours can organize wine tours in Durello wine producing area, with visit vineyards, cellar and tasting sessions in wineries. It will be also a chance to deepen the knowledge of local cuisine and enjoy the artistic and historical heritage of the area that offers castles, museums, gorgeous Renaissance villas.
For further information send us a mail at: info@amaronetours.it
or call +39 389 983 5269.