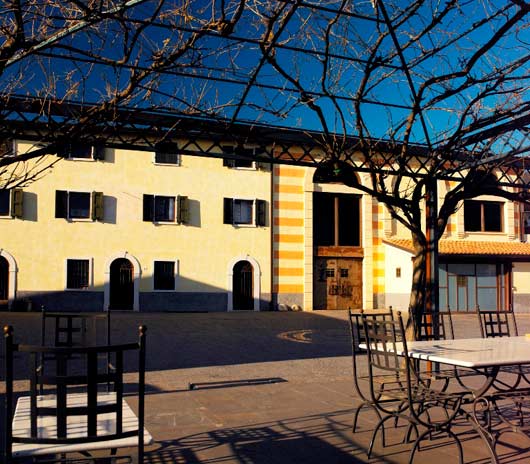 Allegrini winery is not far from Fumane, one of the 5 villages that with their territory constitute Valpolicella Classica, the historical Valpolicella and Amarone wines producing area. Even if it is still a family run winery it is one of the biggest in Valpolicella with almost one million bottles produced avery year.
Allegrini is a quite innovative winery. They were among the first to introduce innovative, and successful ideas, in Valpolicella wine making: the use of barriques for the ageing of Amarone, the single vineyard like the French "cru", 100% Corvina grape wine.
Beside traditional Valpolicella wines, Allegrini also started to release wines made with a new wine making approach experimenting different grape varietals other than traditonal Valpolicella typical ones (Corvina, Rondinella and Molinara). Their innovation were successful and the wines produced by Allegrini have become very popular both on Italian and international market, especially North America.
Beside typical wines, at Allegrini you can now find also wines that do not fall under the strict DOC and DOCG regulations, and even if produced in Valpolicella cannot be named with registered appellations: Valpolicella, Ripasso, Amarone, Recioto. Villa Giona, La Poja, Palazzo della Torre, are all IGT (Typicla Geografic Indication) wines unique to Allegrini.
Vineyards are located in some of the best growing areas on the hills inside Valpolicella Classica such as La Grola hill. Traditional grapes varietals are grown (Corvina, Corvinone, Rondinella and Oseletta), but also international varietals such as Sangiovese and Merlot have been introduced for the production of sinlge grape and blended wines.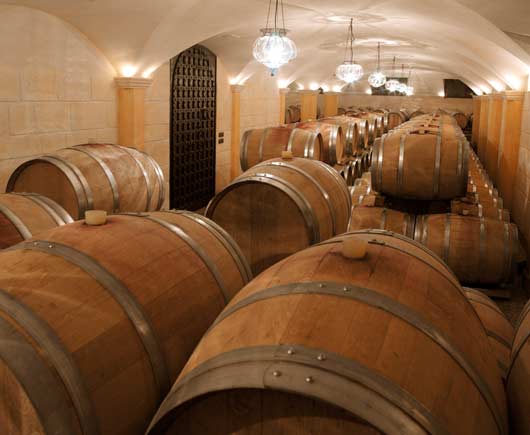 Concerning wine making, French oak barriques are widely used. After few month in smaller barrels, Valpolicella Superiore and Amarone are trasferred in traditional big Slavonian oak casks. French barriques were introduced in Valpolicella in the '80s and are now used by many producers even if there are often discussions concerning which method is the best for the ageing of Amarone: the French oak small barrel or the big Slavonian oak cask.
Allegrini wine shop is always open for informal tastings and quick tours. There you'll find the traditional Valpolicella wines: Valpolicella Classico, Valpolicella Superiore Ripasso, Amarone and the sweet Recioto. Beside typical Valpolicella wines you'll find also more innovative wines blending local and internetional grape varietals.
Many wine makers of historical producing areas in Italy in recent years started to feel hampered in by the strict regulations of DOC and DOCG quality labels. In particular they cannot innovate, use their creativity and adapt to always changing trends on the wine market. Nowadays there are wineries experimenting new grape blends and wine making techniques on the same great wine producing areas were italian historical wines developed. Italian quality labels like DOC and DOCG are strictly related to the name of the wine. If they do not follow the strict quality label rules, producers are not allowed to call the wine with the historical name. It happened for example in Tuscany with the so called Super Tuscan wines produced in the same producing area were the historical Chianti is made but with different grape varietals.
To a smaller extent it is also happening in Valpolicella. By changing the percentage of the grape varietals used, using different ageing materials, etc, it is possible to create very new and original wines.
At Allegrini, beside excellent traditional Amarone, Valpolicella Superiore and Recioto, it is also possible to find wines made with 100% of Corvina, the most important grape in Valpolicella wines blend, or with blends of grapes that also include Sangiovese or Merlot.
The wine shop is always open to guests for informal tours and wine tastings. Full tours can be booked for groups of at least 4 participants and with few days of advance. If wine shop staff is not too busy it is always possible to have a quick visit of the barriques and casks cellars.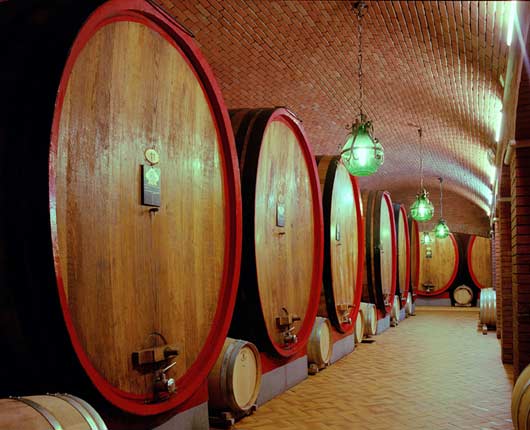 With a full tour it is possible to have a complete tour inside the vineyards, visit the cellar and have a guided tasting of a selection of their most representative wines.
Winery Tours at Allegini
A winery like Allegrini, with an innovative approach to wine making, together with a smaller, traditional and old fashioned winery, can become the perfect combination for one of our private winery tour that will let you experience the different wine making styles of Amarone and Valpolicella.
Send us a mail at: info@amaronetours.it or call +39 389 983 5269.