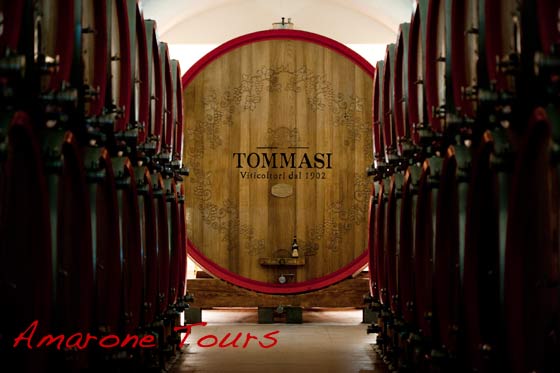 Tommasi winery is one of the biggest wine producer in Valpolicella. Nevertheless the company, founded in 1902, is still a family run cellar.
The estate is located in Pedemonte, in the territory of San Pietro in Cariano, one of the five villages that constitute Valpolicella Classica region, the historical production region of all Valpolicella wines and Amarone.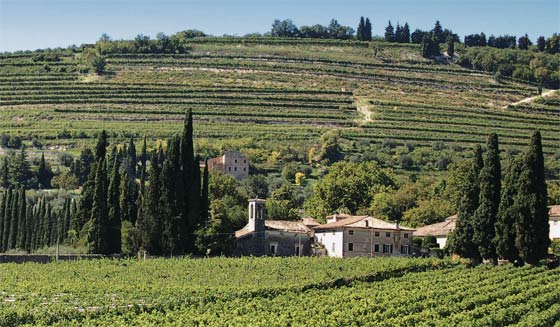 The winery is now run by the 4th generation of the Tommasi family and from the first tiny vineyard in 1902 it now extends over 100 hectars located in the most suitable hills for the production of Valpolicella grapes.
In recent years, the production of wine was extended to other high quality wines in Verona D.O.C. regions: Bardolino, Custoza, Soave and Lugana.
Nowadays Tommasi is one of Verona most famous winery in the world thanks to its great red wines from Valpolicella Classica region: Amarone Classico, Valpolicella Classico Superiore, and Recioto della Valpolicella.
Wine Tours at Tommasi Winery
Tommasi winery welcomes friends and good wine lovers in its cellar for tours and wine tastings.
A visit to Tommasi estate represents a chance to know Valpolicella Classica region and its wines, understanding the effort and the passion that lays behind each bottle of Amarone.
Each tour starts with a visit to the historical vineyard behind the winery building where visitors will learn how valpolicella grape vines are grown. The wine tours then continues to the fruttaio, the loft above each Valpolicella winery used for drying grapes for Amarone and Recioto. Down in Tommasi cellar visitors will see the huge slavonian oak barrels used for the ageing of Amarone together with Magnifica, world largest oak kask. The visit to the cellar will inlcude also the historical cellar.
The tour ends with a tasting of Tommasi most representative wines:
Introduction wine tasting
"Ripasso" Valpolicella Classico Superiore Doc
Amarone della Valpolicella Classico Doc
"Fiorato" Recioto della Valpolicella Classico Doc
Together with wines there will also be a light snack of grissini (bread sticks)
Superior wine tasting
"Il Sestante" Lugana Doc or "Crearo della Conca d'oro"
"Ripasso" Valpolicella Classico Superiore Doc
Amarone della Valpolicella Classico Doc
Special selection of Amarone or "Fiorato" Recioto della Valpolicella Classico Doc
Wines will be served together with a snack of grissini and Monte Veronese (local cheese).
Upon request it will be possible to pair wines with a selection of local salami and cheese.
It is also possible to have a customized wine list for the tasting.
Tommasi Wine Shop
Tommasi wines are all available for informal tasting during week days at the wine shop.
Amarone Tours can organize wine tours at Tommasi winery as part of an half day or full day tour in Valpolicella and other Verona wine producing areas. Do not hesitate to contact us for information, details or to book your private wine tour.
Send us a mail at: info@amaronetours.it or call +39 389 983 5269.