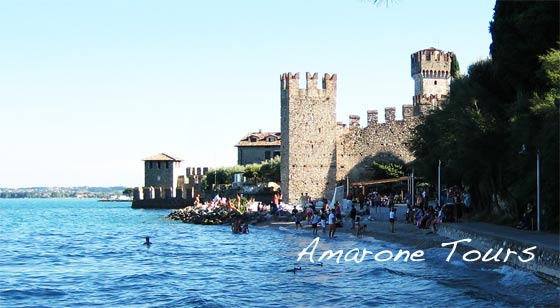 Lugana wine and wine producing region take the name from a small village few kilometers from the southern shores of lake Garda, twenty minutes car ride from Verona. It is a small strip of flat land between lake Garda and the morainic hills that formed during the long glacier age that contributed to the formation of Italian biggest lake.
In spite of the flat land that usually is not suitable for the production of high quality wines, the clay soil of this region, together with Trebbiano di Lugana and Turbiana autochthonous grape varietals, contribute in creating a great white wine, full of structure and sapidity.
The territory around Lugana wine producing area is full of history and beautiful villages and sights.
Sirmione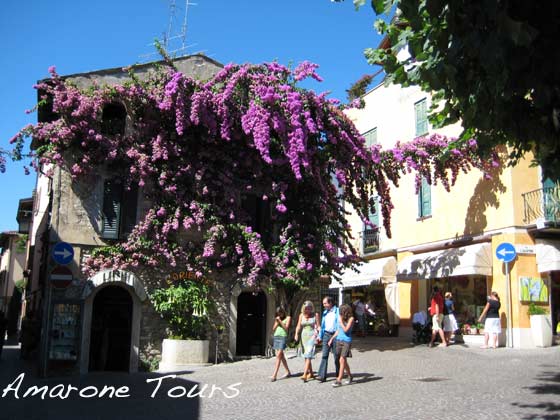 Only few minutes from Lugana vineyards there is Sirmione peninsula, considered the 'pearl' of lake Garda. It is a long and narrow strip of land extending from the coast into the blue waters of the lake. In the center of the peninsula you'll found the ancient walled town with an exceptionally well preserved castle built by the Scala family in XIV century.
On the tip of the peninsula, after a beautiful walk along olive groves you will get to Catullus grotto. It is not a real grotto but northern Italy biggest archeological area, the remains of a huge Roman villa that, according to the legend, was the house of the famous Roman poet Catullus.
Sirmione is an important tourist resort. Thank sto its thermal springs it is also a quite renown spa center.
Valeggio and Borghetto
Moving south of Lugana along the river Mincio you'll get to Valeggio and Borghetto, two beautiful middle age villages. In Valeggio you'll find another Scala family castle and a dam-bridge built by the Visconti family at the endo of XIV century.
Borghetto is a small village built accross the river Mincio. In the small alleys of Borghetto you still can found the old water mills that used the water of the river.
Valeggio and Borghetto are famous for tortellini, typical dumplings of pasta filled with meat. It's a delicious northern Italy receipe that you can try in one of the many restaurants in the area.
W

ine Tours in Lugana
With an Amarone Tours private escorted wine tour in Lugana it is possible to visit both one of the many wineries surrounded by the vineyards of the area and one of the beautiful villages of Sirmione, Valeggio or Borghetto.
After the wine tasting tour you'll have the chance to try the delicious tortellini in a local restaurant.
Send us a mail at:
info@amaronetours.it
or call +39 389 983 5269