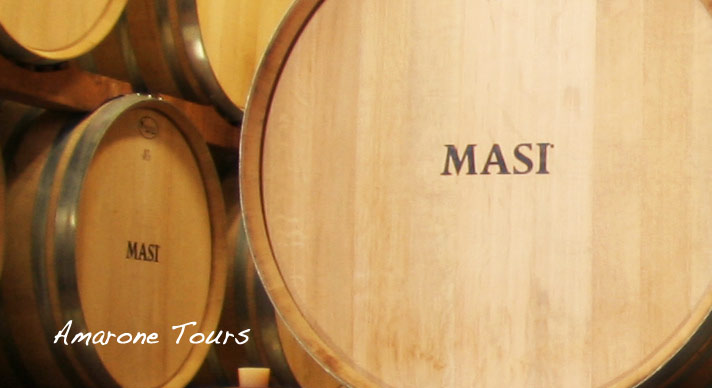 Masi is undoubtedly one of the most important wineries in Valpolicella, among those that in the past three decades contributed most to the international success of Verona wines, the Amarone in particular.
With 12 million bottles produced every year, it is one of the biggest in Valpolicella, not considering cooperative wineries. In spite of its size, Masi is still a family run company, owned by Boscaini family.
In spite of its quite modern image, Masi winery has been producing wine since the end of 1700s. Masi was the name of the very first vineyard.
Today Masi Agricola owns and runs many hundreds of acres of vineyards, not only in Valpolicella, but in all the wine producing regions around Verona and few vineyards in Argentina where, after a series of attempts, they succeded in planting Verona grape varietals, Corvina in particular, with the aim to create international style wines using the most traditional grapes of Valpolicella.
In fact, in spite of the long tradition, Masi puts a lot of energy and efforts in research and technology development applied to vine growing and oenology with important collaborations with agronomy faculties of various universities and scientific research institutes. For example it was Masi that funded the studies on Corvina DNA, that discovered the complex mechanism that trigger the development of aromatic substances during the drying (Appassimento) for the production of Amarone.
This focus on research and development applied to traditional products brought to the creation of Masi Technical Group, a team of agronomists, wine makers, etc, that collaborate in the creation of Masi famous wines.
Masi Cellar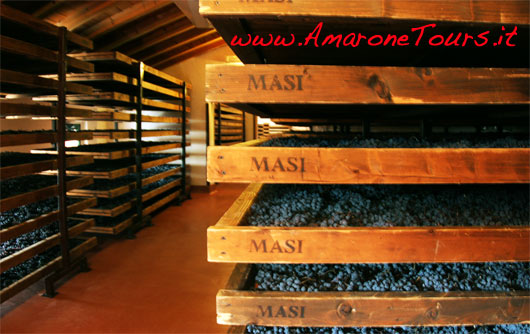 Masi cellar is undoubtedly one of the most beautiful and spectacular in the world. It was built under the historic headquarters of the company, in Gargagnago, in the territory of Sant'Ambrogio di Valpolicella, one of the five villages that constitute Valpolicella Classica, the historic production area of Amarone. It is a real unique place, where, together with an endless number of barrels of every size and material, bottles of great vintages, fermentation vets, are displayed works of art and architectural installations that make this cellar a real museum, of art and wine making.
From the original villa, Masi cellar extends underground through many levels that do not alter the landscape of the territory. Still on ground level there is one of the many grape drying centers for Recioto and Amarone wine. The appassimento (drying process) is all done on arele, the traditional racks made of river reeds, but in a completely computer controlled environment that, thanks to a database and computer software, recreates the same temperature range, humidity and ventilation registered during the years of great Amarone vintages.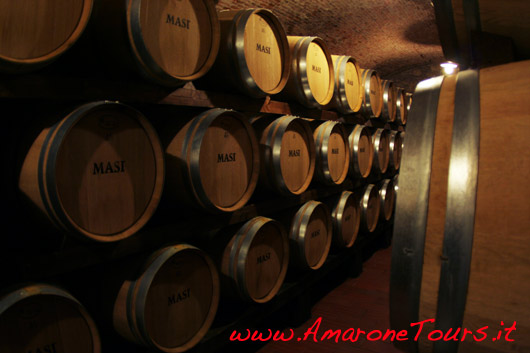 After the drying center there is the experimental cellar, where Masi winemakers test new wine ageing methods trying different oak and wood varietals, barrel shapes, temperatures, etc., and collecting data that will be transferred also on standard production.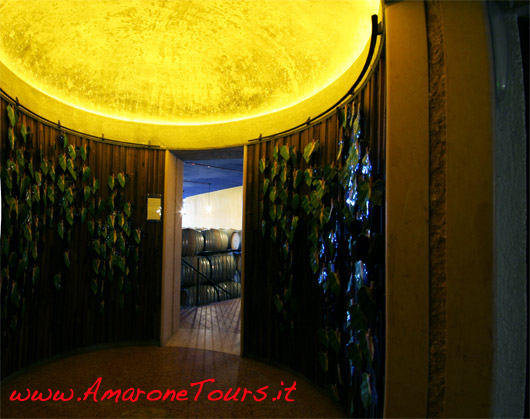 From here there is the access to the real ageing cellar, a maze made of wide vaulted rooms on different levels with endless line of barriques, 600 liters fusto Veronese barrels, huge Slavonian oak casks placed side by side to sculptures, mosaics, architectural installations where the main subject is the vine and wine.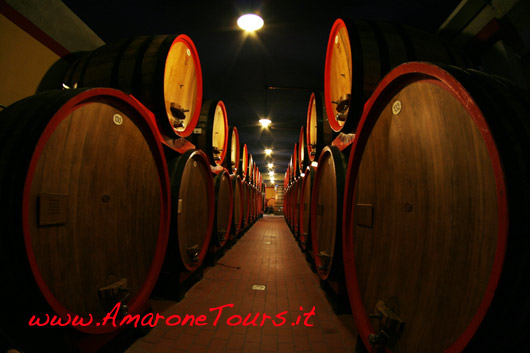 In the cellar of older vintages,10% of bottles of every vintage since 1980s are nicely stacked up in a sort of thick wall of bottles that represents Masi historic heritage. Most of these vintages are still available from Masi wine shop. Not available on the market are the bottles of Boscaini family private cellar, a real safe full of precious "jewels".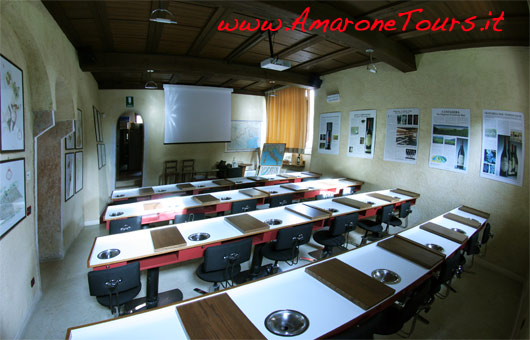 Masi cellar is equipped with a tasting room where members of Masi Technical Team meet for their quality checks and make the decisions regarding Masi products of the present and of the future.
Masi Wine Tastings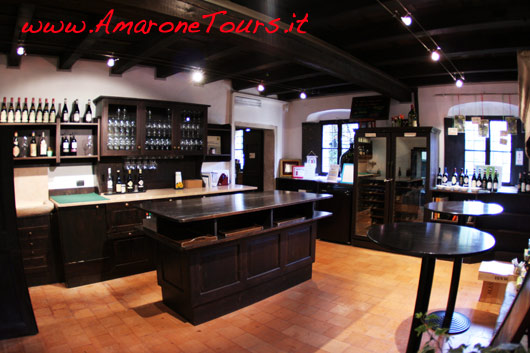 Unfortunately Masi winery is not open to the public for visits and tastings. Tours are available only for importers, distributors, wine insiders and journalists.
Masi complete wine selection can be tasted and bough at the wine shop of the nearby Serego Alighieri, one of those wineries with which Masi established a cooperation since the 70s.
For further information on wine tours in Valpolicella do not hesitate to contact: info@amaronetours.it or call +39 389 983 5269.