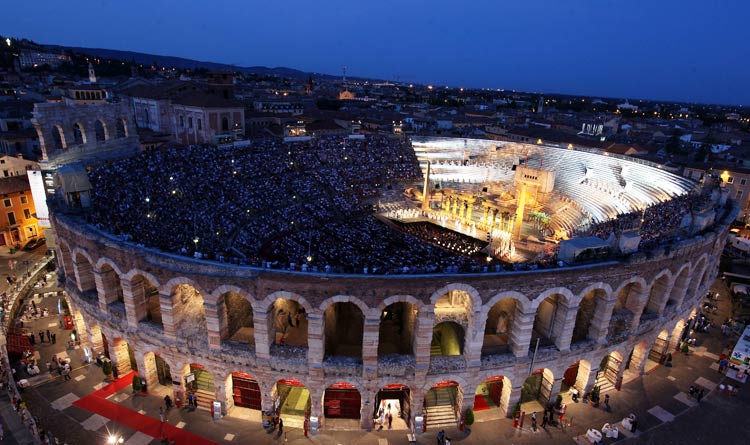 After a relaxing winery tour in Valpolicella, Soave or lake Garda, tasting your favourite wines, a night at the opera could be the right conclusion of a perfect day in Verona.
Both in Summer and Winter there are many opera and music events that take place in some of the most unique settings in the world.
The Arena of Verona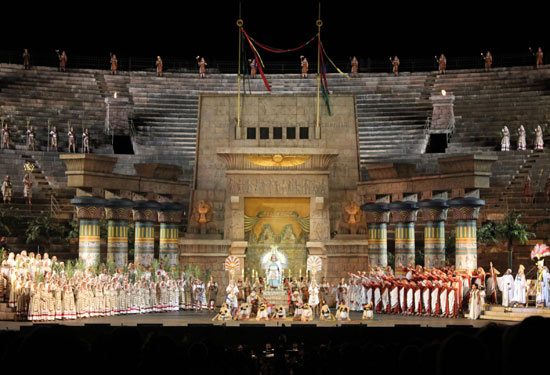 Arena is a Roman amphitheater built in the firs century a.D. Like the Colosseum the Arena too was built for galdiators fight but unlike the amphitheater in Rome it is so well preserved that it can still be used today. Since 1913, every year in Summer, Arena hosts a famous opera festival. Through the years on its stage performed some of world most appreciated singers: Maria Callas, Luciano Pavarotti, Jose Carreras.
Arena is the third biggest Roman amphitheater in Italy and the huge space inside the two thousand years old monument allows to create impressive stage set that, together with the ancient structures, contributed to the success of this festival. The perfect acustic of the Arena ensure that all the 17.000 people of the audience can enjoy opera music and songs even if singers do not use any amplification system, making Arena the biggest open air opera theater in the world and probably the oldest.
Popular operas of Verona festival include Verdi's repertoire, especially Aida, Nabucco, Traviata and other popular composers such as Puccini, Rossini, Bizet.
Beside opera, especially in Spring and Autumn, Arena also hosts pop and rock music concerts by Italian and internationally famous artists.
Philarmonic Theater of Verona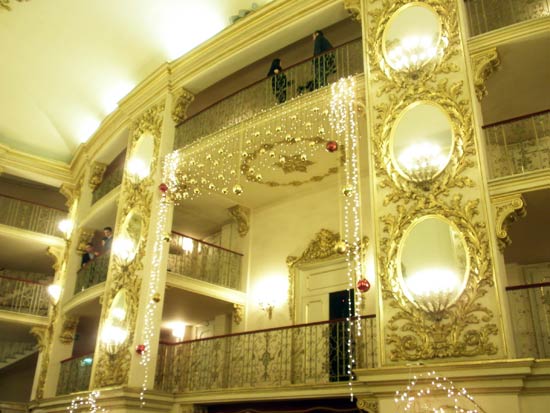 In winter, when it is too cold for the open air Arena, but not for a good glass of Amarone, operas and classical music concerts take place inside Verona Philarmonic Theater (Teatro Filarmonico). It is a typical Italian style opera theater, built at the beginning of 1700s with palchi (private boxes), galleries, stuccos and gilded decorations. In 1770, during his trip in Italy, Wolfgang Amadeus Mozart held a concert inside Verona Philarmonic Theater impressing all those who came to hear the boy prodigy.
Altough not as famous as La Scala in Milan, Teatro Filarmonico in Verona is a beautiful theater that in Winter offers a quite varied and interesting program with operas, concerts and ballets.
Amarone Tours in Verona
If you are coming to Verona for the opera you might want to take the opportunity to explore Verona and its surroundings with one of Amarone Tours guided itineraries.
Amarone Tours organizes escorted private guided tours in Verona city center or in the surrounding areas such as Lake Garda, Palladio's Villa in Vicenza. We can provide professional guides in English and in main European languages and, when needed, provide transport with private car, van or, for bigger groups, tourist bus.
Wine Tasting Tours and Opera
If you are a wine enthusiast or you just want to deepen your knowledge of Verona wines, Amarone Tours organizes wine tasting tours both in Verona wine bar and wine shops (Enoteca) or in wine producing areas around the town: Valpolicella, Soave, Bardolino, Lugana.
All our wine tours ends by 5.30/6.00 pm so you will have plenty of time to prepare for the opera that starts around 9.00 pm.
Please contact us for further information and details or to book a wine tour with Amarone Tours.