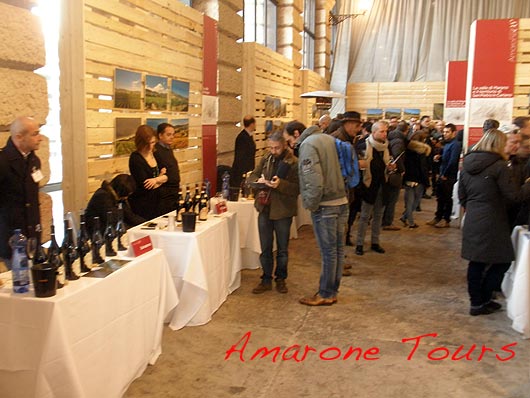 Every year, around January, Verona hosts Anteprima Amarone. It literally means Amarone Preview and is a two days event in which Valpolicella producers present to wine journalists, wine bloggers, sommeliers and other wine experts and lovers, their Amarone of the latest vintage that can be released on the market in the current year.
According to Amarone DOCG wine making regulations, the wine should age in barrels for at least 24 months after the year of harvest. Including the time required for fermentation, sedimentation and bottle resting (around 6 months) this means that in 2012, the youngest Amarone that will be possible to find on the market will be the 2008.
Some producers already have the Amarone properly bottled and ready to be sent to restaurants and wine shops, but others, especially those who are following a traditional wine making, usually present an Amarone that will be ready in 2 or 3 years and that at the moment is still ageing in barrels. In every case, the Amarones tasted at Anteprima will be young and often immature and unbalanced, sometimes with some harshness and still biting tannins or with different components not well combined together. This is the reason why Anteprima Amarone is addressed to wine connoisseurs or at least to people who know this type of wine very well. People attending Anteprima Amarone are required to make the effort to imagine how the wine they are tasting will evolve through the years, if it has a good potential to become a great Amarone in the next future. Someone attending this event with the usual wine tasting approach, thinking that he will try a lot of very enjoyable wines, in many cases could be disappointed by wines that are often not ready to be released.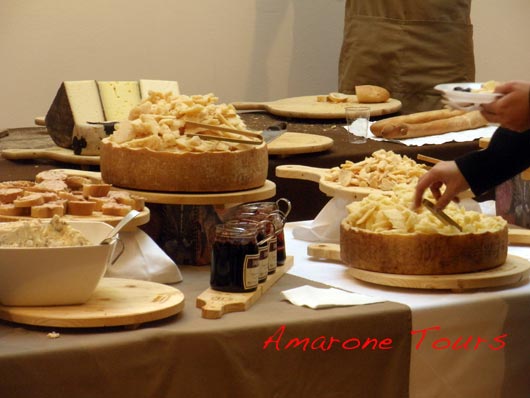 This year, Anteprima Amarone was on January 28th and 29th, with the first day open to wine journalists only. The event was held at Gran Guardia, a beautiful 17th Century palace built for the military academy of Verona. The building is in the very center of Verona, in piazza Bra, the square where the Arena, Verona Roman amphitheater is. A good chance for many to visit Verona beautiful old town after the tasting sessions. On the second floor of the building there was an art exhibition about Verona 18th century painting. People attending the event also had the chance to visit this very interesting exhibition.
Producers who presented their 2008 vintages were 58, both from the Valpolicella Classica (historical Valpolicella) area, with producers from the territories of Sant'Ambrogio, Fumane, Marano, San Pietro in Cariano, Negrar, and from the extended producing area in the eastern valleys of Verona Province: Valpantena, Val d'Illasi, etc.
Next to the tasting area there was a buffet service were it was possible to pair Amarone with some of the greates local products: Soppressa Veneta (garlic salami), prosciuttos of all kinds, cheese like Monte Veronese, Cimbro, Parmesan and other delicacies. This year there was also a dessert corner prepared by the pastry shop of Verona most renown chef: Perbellini (2 Michelin stars).
The event was opened by Emilio Pedron, president of Valpolicella Consortium who expressed his sorrow for the passing of Giuseppe Quintarelli, probably the most renown and prized Amarone maker, on January 15th.
He then stressed how Amarone is being appreciated more and more both on Italian and international market. In the past ten years the production went from 5 million to 12 million bottle per year and the revenue from 160 million euros to 300 million.
The challenge is to keep up to the present quality standards and to fight counterfeiting. Due to Amarone great success, many wineries, not only in other Italian wine producing areas but also abroad, are now copying the appassimento, Amarone unique grape drying process. It is important Pedron said, to properly inform consumers so that they can make aware choices.
Anteprima Amarone is a must for all Amarone lovers and connoisseurs that will have the chance to deepen their knowledge of this incredible wine, finding in one single place wines from so many different producers, from the big world wide famous labels, to small family run wineries, each one with its own wine making style and secrets.
Even if you can attend Anteprima Amarone only upon invitation, Amarone Tours can provide entrance tickets and organize educational and appreciation tours for those who want to have a guide to take there around the exhibition, selecting the most representative wineries and planning the tastings. For further information and details on Anteprima Amarone or on other wine tours in Valpolicella and other Verona wine producing areas please contact: info@amaronetours.it