Soave wine is one of the most exported and representative Italian whites. In the 70s and 80s, taking advantage of its success, some large industrial wineries began to export large quantities of Soave. It was an overproduced, diluted, low-cost wine, that ruined the image of Soave on international markets, particularly North America. Since the end of the 1990s, thanks to the work of a few smaller family-run wineries, Soave is enjoying a true renaissance. Careful selection of hillside vineyards, 100% Garganega grape, reduction of quantities, modern vinification in small batches and controlled environment have all contributed to this revival.

Soave wine tours
Since 2005 we have been selecting and collaborating with some of the best wineries in the region. There you will be able to see the new course of Soave and appreciate the results. If you tried some of those wines back in the '80s and told yourself "never again", by joining one of our tours you will definitely change your mind.
Soave Grapes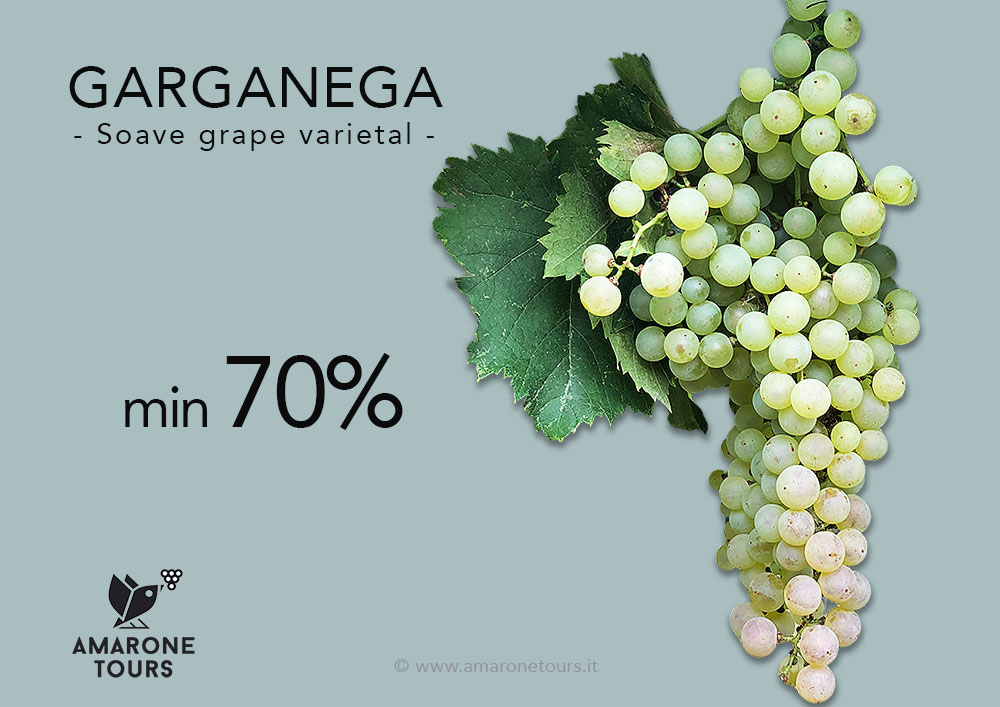 The most important grape varietal in Soave wine is Garganega.
Soave is a denomination wine (DOC). It means that in order to label a wine Soave, producers must follow strict regulations. These involve also the grapes allowed in the blend that must be at least 70% Garganega.
Wine makers can add up to 30% of Trebbiano di Soave (a local variety of Trebbiano) and Chardonnay. Within this 30% it is also possible to include up to 5% of other grapes. These must be listed among those approved for the province of Verona: Pinot Blanc, Pinot Grigio, Riesling, Sauvignon, Tai.
100% Garganega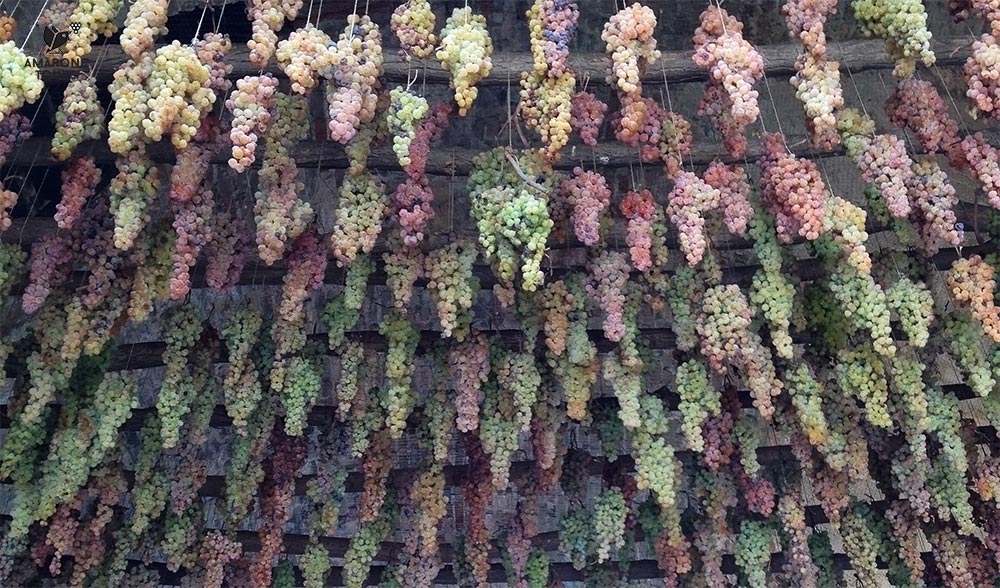 Garganega grape varietal does not have a pronounced aromaticity. The clearest notes of its delicate bouquet are almond and white flowers. To express its full potential Garganega needs higher concentration of minerals and acidity that give Soave its typical structure, body and complexity.
On the flat valley bottom with higher yields, overproduced lower grade grapes result in diluted and flat wines lacking character. To give these Soaves some personality, wine makers add small quantities of aromatic grapes such as Sauvignon or Riesling.
But Soave wines that preserve their authenticity tend to use 100% Garganega grape. To achieve the best results with single varietal wines, grapes must come from hillside vineyards. Here yields are lower and Sun exposure and ventilation ensure perfect ripening and concentration.
Terroir and Wines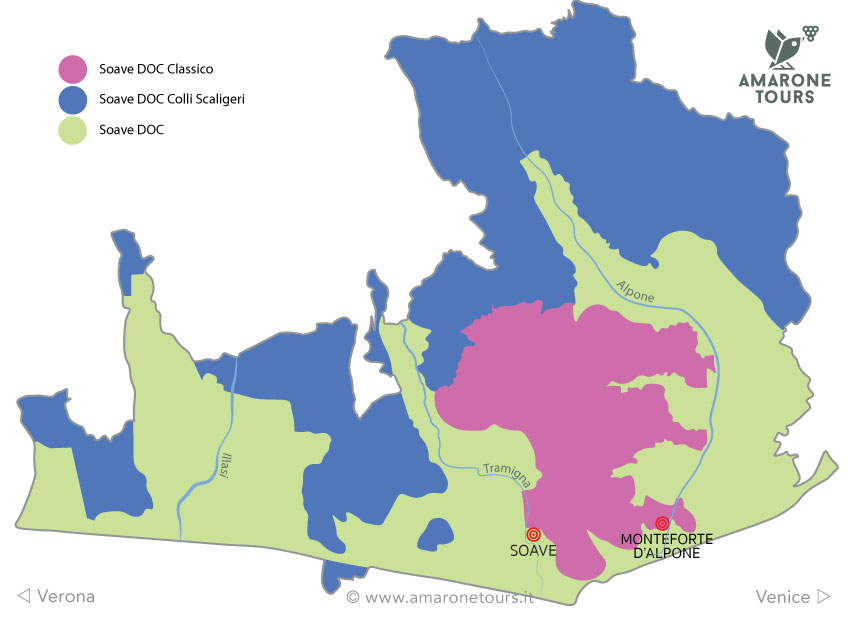 There are three subzones in the Soave wine producing region that you can also read on the label:
Soave DOC
Soave DOC Classico
Soave DOC Colli Scaligeri
Soave DOC area includes the flat floor of the three valleys of the Illasi, Tramigna and Alpone streams that cross the mountains from north to south. Soils are deeper, made of sedimentary material, alkaline, rich in clay, humid and very hot in Summer. In the past they were mostly cultivated with cereals and orchards, and only in the last fifty years they coverd with vineyards. Here the production of grapes is more abundant and the resulting wines simpler and softer due to lower content in minerals and acidity.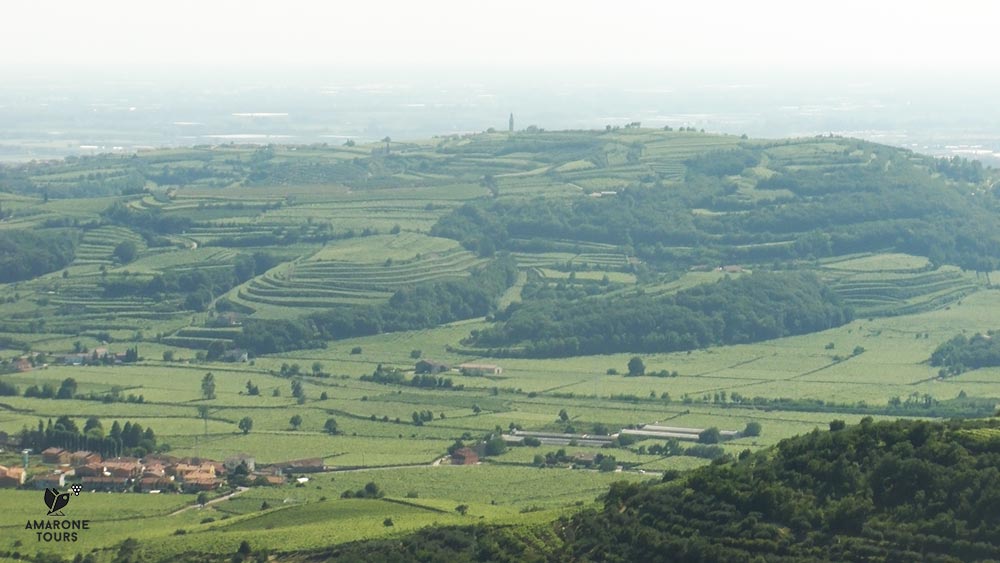 On the other hand Soave DOC Colli Scaligeri is the jagged hilly area north of the flat valleys. Soave DOCG Superiore (superior) is made only with grapes coming from this hilly region. DOCG is the the top quality classification in the Italian wine denomination system. Steeper slopes, often terraced, rich in rocks, ensure good drainage and smaller production of grapes. Bunches are richer in minerals that give more intense flavors, color and structure to the Soave Superiore wines.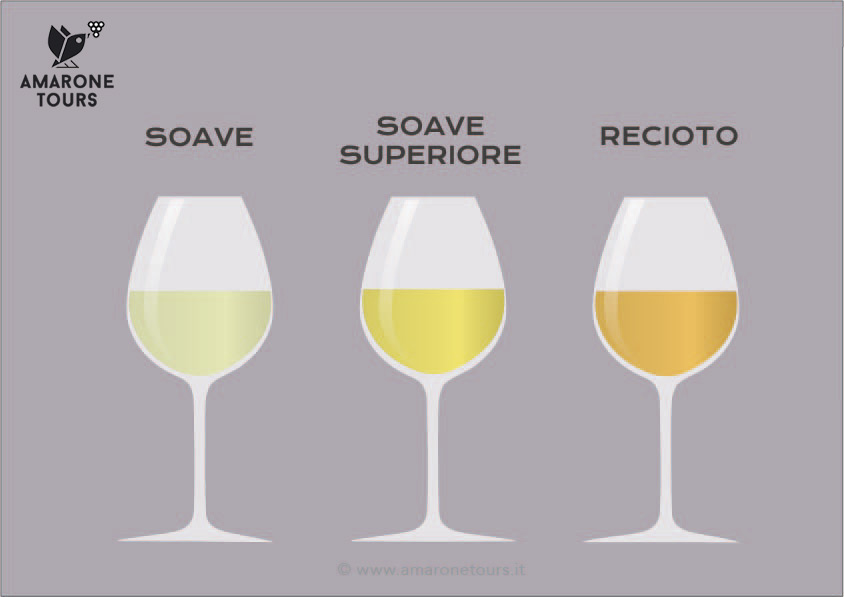 The group of hills that separate the two towns of Soave and Monteforte d'Alpone is Soave Classico area. In the Italian wine making regulations the word "Classico" indicates the historical area of a wine region and is generally where you can find the oldest and most traditional wineries.

The soil: Volcanic Vs Limestone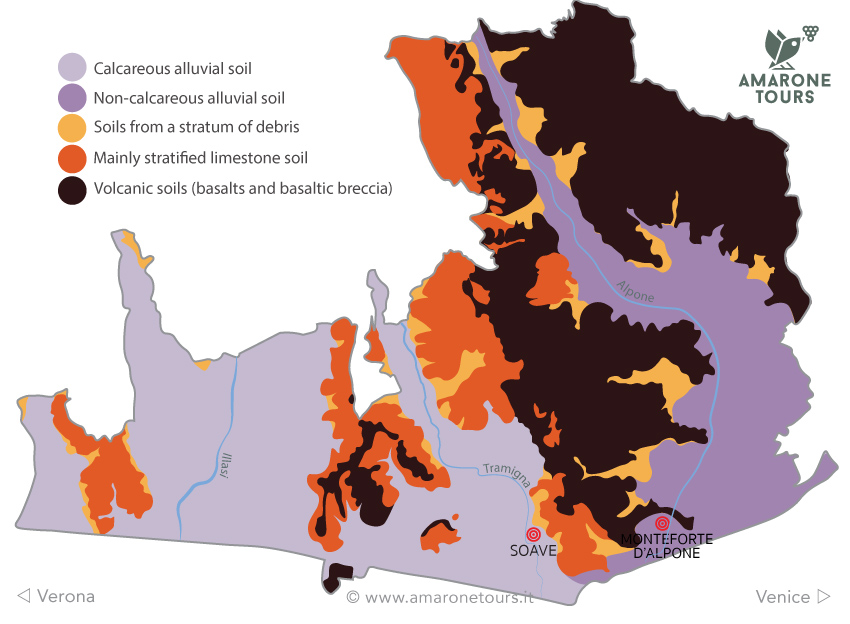 The hills north of Verona are made of a thick layer of limestone. It is the result of a continuous accumulation of marine deposits, which began 200 million years ago and lasted tens of millions of years. It incorporated corals, shells and marine animals that are still numerous today in the form of fossils. This is why wine production areas of Verona are generally rich in limestone.
Thirty million years ago, in the portion of the ancient sea that today corresponds to the area of Soave, eruptive phenomena began.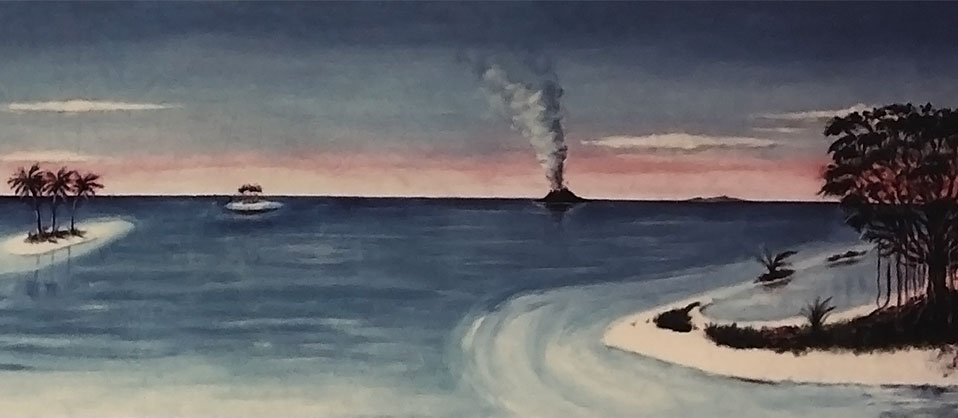 Underwater faults and volcanoes poured large quantities of lava that, layer after layer, covered the limestone rocks. Landscape must have looked very similar to today's Hawaii. Later, tectonic movements raised the seabed giving origin to the mountains and hills of northern Italy. Lastly, erosion completed the work by digging the valleys and exposing the remains of these old eruptions.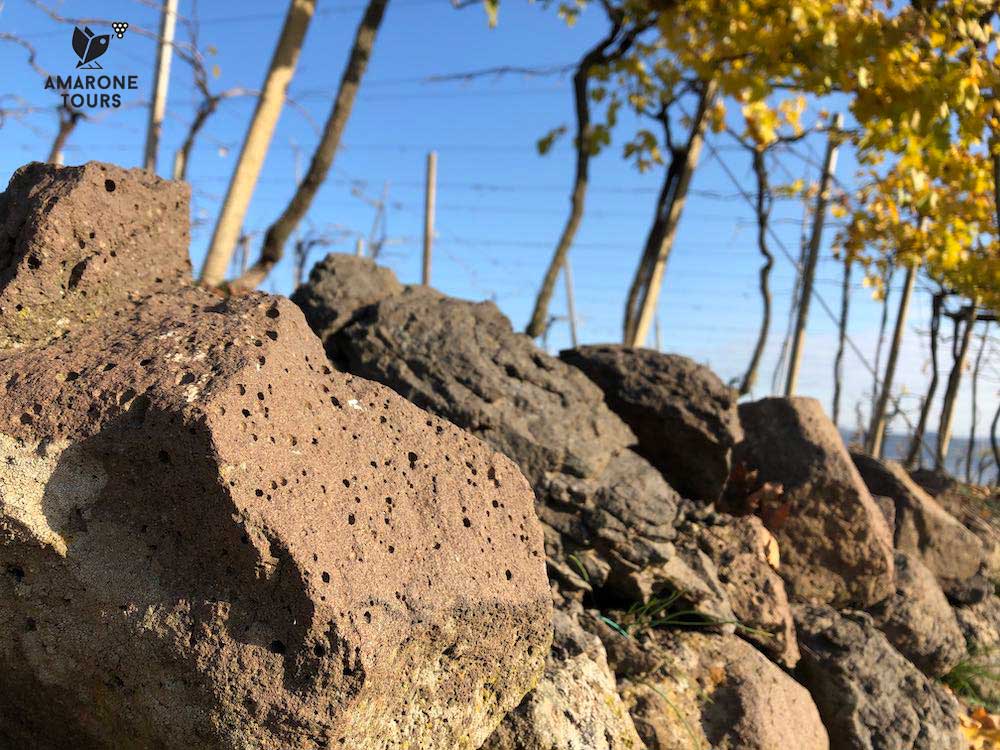 The territory of Soave is therefore extremely complex. In the western part (Illasi valley) and central part (Tramigna valley) it consists mainly of calcareous rocks. In the central-eastern part (Alpone valley) it is mainly formed by basalts and other volcanic rocks. In some points the two types of soil are mixed and sometimes even very close vineyards can have completely different composition.
Single vineyard wines
Differences in soils clearly reflect in single vineyard Soave wines. In order to better appreciate these characteristics, many Soave wineries, which have vineyards in more than one place, vinify the grapes separately. The name of the single vineyard often appears on the label.

The grapes coming from volcanic soils give complex and balanced wines, with high levels of acidity. More than fruity aromas prevail sweet spices (often cinnamon), minerals (flint), with notes of almond. The peculiar characteristics of these wines are their great intense and rich palate, with an almost oily texture, which you can find only in the volcanic areas of Soave.
On the other hand, wines produced in the limestone hills of Soave are more elegant than powerful, with intense aromaticity and olfactory complexity, hints of tropical and ripe fruits, floral and citrus scents.

Recioto di Soave DOCG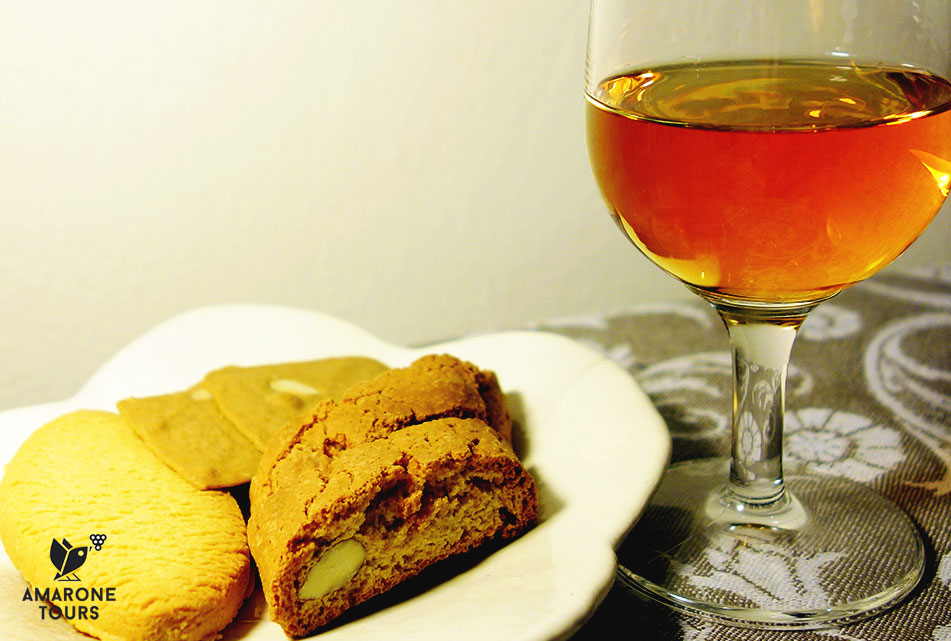 Besides Soave DOC, Classico and Superiore, the oldest and most traditional denomination of Soave is Recioto. Like Recioto della Valpolicella, Recioto di Soave is also made with semi-dried grapes. The best bunches of Garganega are hand picked and left to dry for at least three months on special racks and crates inside lofts above wineries.
Recioto is an ancient wine. The existence in Verona of a sweet white wine similar to today's Recioto di Soave is testified by Cassiodoro, minister of Theoderic the Great. In the 5th century a.D. he wrote a letter to his king mentioning a delicious sweet wine made with dried grapes he drank in Verona.
In 1998 Recioto was the first wine in Veneto to achieve the Denominazione di Origine Controllata e Garantita, the top Italian quality certification.
Recioto di Soave has a beautiful honey like color. The palate is smooth, rich and complex with hints of candied fruit, raisin and sweet spices. Its sweetness never syrupy thank to the good balance with acidity and alchol.
It is excellent with dry cakes and almond cookies like sbrisolona and cantucci. Try it with mature cheeses or blue cheeses such as gorgonzola. It can be also a "meditation wine", served on its own at the end of a good dinner with friends.

Food pairing

With its various styles (sparkling, dry still, sweet) and different production areas (hills, plains, calcareous soils, volcanic soils) it is almost always possible to find the right Soave for a perfect match.
The lighter and fresher Soave, or the sparkling version, are the most typical aperitif wines. They are perfect for appetizers, with canapés, ham, fresh cheeses.
Another of the most typical combinations of Soave is fish. You just have to be careful to pair a Soave with the right characteristics according to the intensity of the fish. Shellfish, crustaceans and white fish will go with more balanced wines. Oily fish and more elaborate preparations will require structured wines with a more pronounced acidity. A soft and lean Soave is the perfect wine for sushi and sashimi, which makes Japan one of the main international markets for Soave.
More structured and intense types of wine, or old vintages, can easily be paired with the whole meal. Pasta, risotto, white meats, medium-mature cheeses, pork, even with elaborate preparations it will be perfect.

Ageing Potential

You should drink a basic Soave within a couple of years from the vintage. Soave Superiore can age in cellar up to 4-6 years, even 10 for the best ones made with grapes coming from hillside vineyards rich in volcainc soils or aged in barrels.
You will be amazed at how complex and unusual the nose of a great Soave left to age can become. The color will tend to golden yellow. At the nose it will develop pleasant hints of dry hay and herbs, chestnut honey, beeswax, amaretto biscuits. The palate will be rich and smoother.

Wineries and Tours
Among the wineries that have historically made quality and tradition their characteristics there are companies such as Pieropan, Gini, Coffele, Cantina del Castello. Among the cellars that have given a new course to Soave you find Corte Mainente, I Stefanini, Inama, Monte Tondo.
In organizing our guided tours in the Soave region we try to select a wide selection of styles and sub-production areas. In doing so we provide our guests with a complete picture of the complexity of the area. Please do not hesitate to contact us for more details and information.