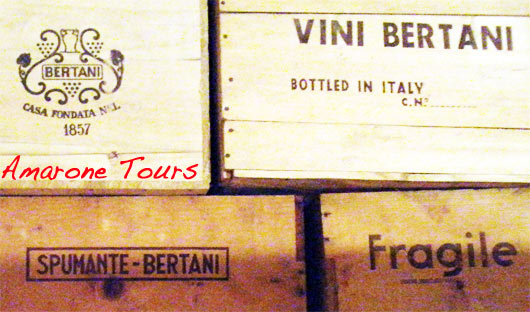 Bertani is one of the most important wineries in Verona, one of those that represents most the history of wine production in the province.
The winery was founded in 1857, 4 years before the unification of Italy, 9 years before the annexation of Veneto region and Verona to the newly born Italian Kingdom. During the Austrian occupation of Veneto, Bertani brothers, Giovan Battista and Gaetano, because of their idependentist ideas and activities, had to escape Verona. Gaetano went into exile in France, Bourgogne, were he had the extraordinary chance to meet Jules Guyot, one of the fathers of modern oenology, and collaborate with him. Still today, the most widespread vine training system bears his name: Guyot.
Returned to Verona after the unification, Gaetano Bertani applied what he learned in France to the Veronese viticulture, obtaining exceptional results.
In Bertani's cellar of Grezzana village, in Valpantena valley, on the eastern side of Verona province, they started to produce extraordinary wines that soon obtained awards and prizes in international wine contests.
Secco Bertani, still today one of winery flagships, became one of the wines served at the Italian Royal court, and was granted the right to decorate the bottle with the royal family crest still on the label today.
Soave Bertani was among the wines served for the celebration of crowing of Kind George of England in 1936.
In 1950s, Bertani bought Villa Novare, one of the most prestigeous estates in Valpolicella Classica, and started to produce Verona most traditional wines: Recioto and Amarone. Amarone Classico Bertani in particular is still considered a touchstone of how a traditional Amarone should taste like. Bertani is the only winery in Valpolicella that still has available on sale almost all old vintages from 1960s.
Bertani Winery in Grezzana (Valpantena)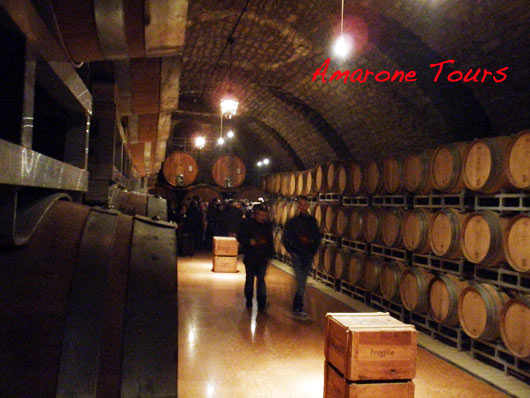 Bertani winery in Grezzana is a unique place, old and modern at the same time. In an environment half way between industrial archaeology and modern minimalism, where local materials such as red Verona marble and dark wood, prevail, together with old cement vets from early 1900s, the visitor will find barrels, vets, casks of French and Slavoian oak, chestnut, acacia, cherry, with all their different colors and textures.
Wine ageing at Bertani is done in barrels made of different wood varietals in order to enhance various aromatic structures of wines that are then blended to create Bertani unique taste.
Wine Tours at Bertani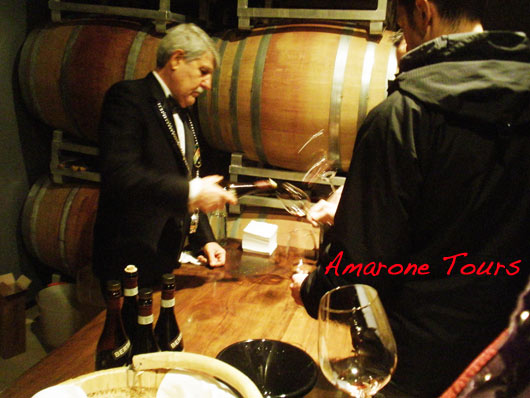 Together with the ageing cellar wine tours at Bertani include also a walk along wooden racks where old vintages of Bertani wines rest, a real museum not only of Bertani estate but also of Verona wine making history.
The tour is followed by a tasting of a selection of Bertani wines including Secco Bertani and current vintage of Amarone Classico. Tasting of older vintages are available upon request.
At the moment Bertani winery is normally not open to the public but tours with tasting are available upon previous request on special occasion and for Bertani wine lovers with a particular interest in discovering where their favourite wine is produced. Bertani wine shop next to the winery is usually open during week days.
After the management handover of Villa Novare in 2012, Bertani hospitality facility in Valpolicella Classica, it is quite probable that Bertani headquarter in Valpolicella-Valpantena might open to regular tours and wine tastings in near future.
For further information and updates keep following us on www.amaronetours.it.