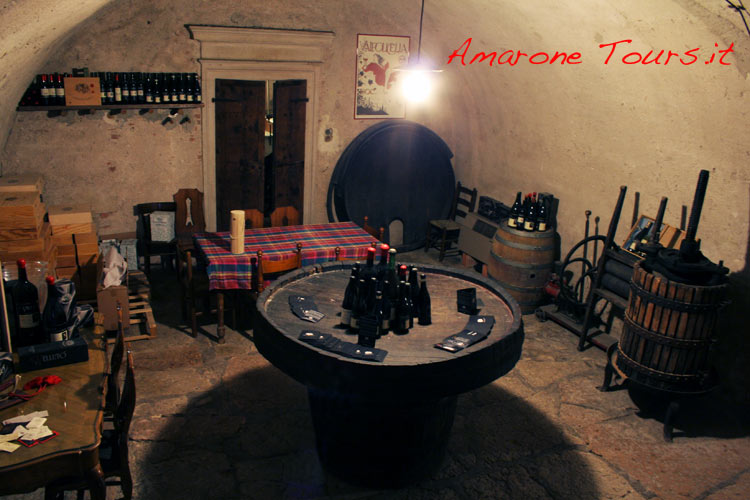 One of the most interesting aspects of many wine producing areas around Verona, especially Valpolicella, is the abundance of very small wineries.
In the past, high production costs and the difficulty of reaching faraway markets, especially abroad, made it possible only to industrial type of winery, to make investments for the increase of wine production and the marketing of their wines.
This didn't mean that there weren't smaller family run wineries, but these mainly grew grapes to be sold to bigger producers using only a little part of their harvest for the production of small amounts of bottled wine, mainly for personal consumption or to be sold on local markets and restaurants. Little cellars preserved a lot of traditional know-how in grape growing and wine making techniques, a know-how that has been handed down from generation to generation until today.
They are wineries that usually own quite small vineyards: 7/8 hectares (17/19 acres) on average. and a production of less than 100.000 bottles a year.
With the increase in popularity of Soave, Valpolicella and Amarone in 1960s and 1970s, and especially after the boom of Veronese wines in 1980s and 1990s, especially abroad, it became profitable even for small sized farms to create their own brand and lable and to start making wine for a wider market. In the past 20 years there has been a proliferation of small sized wineries. Unlike big brands who are buying grapes from many different producers, smaller cantinas produce wine only with grapes coming from their own vineyards with a more careful control on quality following every step of wine making.
In these family run wineries it is often possible to find top quality wines for a quite reasonable price.
Small wineries wine tours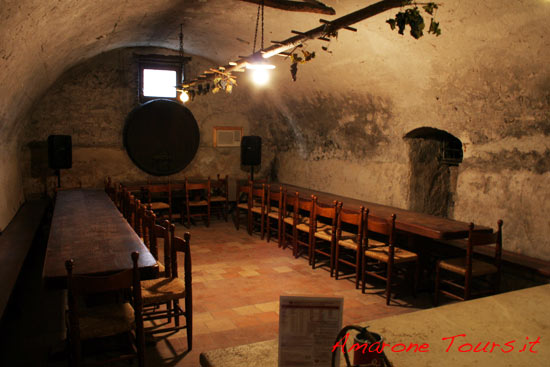 A wine tour all focused on small wineries is always a unique and unforgettable experience. Unlike famous big brands where there are employees specifically hired for tours and hospitality, in smaller places the person who is taking care of guests is often the same who prunes vines in Winter, who picks the grapes during harvest, and takes care of wine making process. It will be possible to ask everything you always wanted to know about Amarone and other wines of Verona, directly to the person who is actually making it, and maybe worm out some secrets.
Not having staff dedicated to hospitality and wine tours like it happens for larger cellars it is always advisable to book tours in smaller wineries with some advance, planning your itinerary together with the wine guides of Amarone Tours. A visit in these type of wineries is often very informative and thorough and with an half day tour it is generally possible to visit no more that 2 different places, 4 with a full day tour.
General Info
Duration:
Half day tour (3-4 hours) – generally 2-3 wineries can be visited
Full day tour (6-7 hours) – 4-5 wineries
The tour is suitable both for private parties and for bigger, organized groups. Some small wineries cannot be reached by big tourist coaches.
The tour includes:
English speaking, sommelier guide.
Tour design and selection of wineries (unless specific cellars are required by clients).
Booking at wineries.
Transportation. (Car, van or tourits coach if required).
Pick up (if in Verona, train station, tourist information office or hotel).
Tasting fees are generally not included since each winery applies a different tasting fee policy. Amarone Tours usually choose wineries that apply tasting fees within a certain range that will be specified in the estimate.
Wine shipping. Although small wineries are often exporting up to 60-70% of their production, because of small volumes it is usually quite difficult to get their labels in your country where they can be found only in few selected restaurants and wine shops.
The only way to enjoy few bottles of a wine you find with our tour is to bring it back in the suitcase or to ship it home. Amarone Tours is able to help you shipping wine with a door-to-door service, reliable, insured and fully tracked.
Contct us now for an estimate, for general inquiring and more information.
Fill in our form, send us an e-mail at: info@amaronetours.it or call +39 389 983 5269.