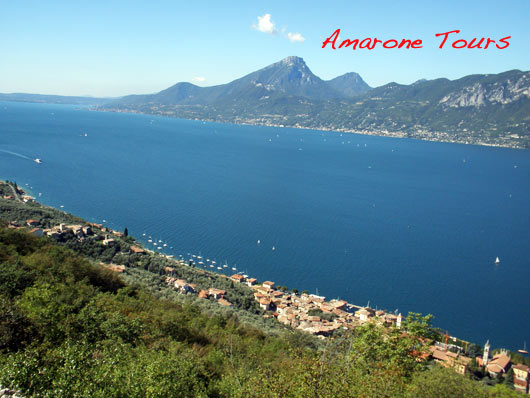 Bardolino vineyards are mirrored in lake Garda, in an almost pre-alpine landscape, yet rich of Mediterranean colours and perfumes, creating a gorgeous view that can be admired from the top of the hills surrounding the lake. The mild climate, the exposition to the sunshine, the perfect balancing between rains and temperature, the variety of soils (sand, pebbles and clay) the passion and ability of the producers, all these qualities together make Bardolino a particularly pleasent wine, highly appreciated at an international level. A wine one must enjoy first with the eyes, while following the wine itinerary, halting for wine tasting and appreciation of the panorama.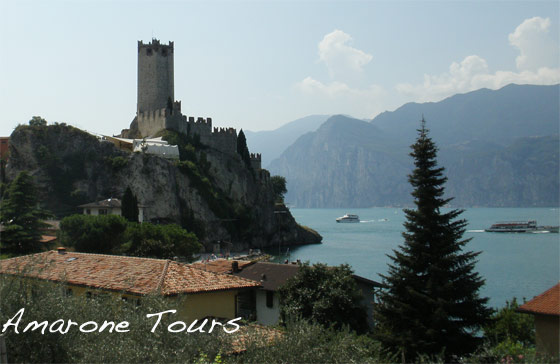 The east coast of lake Garda, where Bardolino wine is produced, extends for approximately 70 kilometers in which seventy wine farms with their cosy cellars can be found. Wineries are often close to ancient churches, medieval castles, noble family villas with their wonderful gardens, natural parks, amusement parks, archaeological museums and exhibitions of local traditions, like the wine and oil museums in Bardolino.
Wine Tours on Lake Garda
With an half day tour in Bardolino wine producing region it is possible to combine a visit at a winery with tasting, with a tour of an olive oil mill. Garda in fact is famous also for the production of an excellent extra virgin olive oil and the hills surrounding the lake are often covered by the silvery green of olive groves. Another alternative is to have a panoramic drive along the winding roads on lake Garda hills and stop in one of many lovely villages on the coast such as Lazise, Punta San Vigilio, Bardolino, Garda.
With a full day tour it will be possible to visit two or three wineries, try also lake Garda cuisine and visit the village of Malcesine with its middle age castle. A tour of Bardolino can also be combined with a tour of wineries in other nearby wine producing areas such as Lugana (on lake Garda southern coast) or Valpolicella.
Itineraries are all fully customizable.
For further information or to book a wine tour on lake Garda
send us an e-mail at info@amaronetours.it or call +39 389 983 5269.