Food can be one of the best and tastiest way to learn about a city and a foreign culture. Our walking food tour of Verona is a real traveling lunch or dinner. Together with our guide you will visit bars, osterias, delicatessens, coffee roasters, butchers. Places where locals eat and do their grocery shopping, hidden somewhere at the end of small squares and alleys in the old town. Our food tour is and immersive tasting experience of traditional cuisine with local cheese, ham, pasta, cakes, coffee and a lot of fun.

Contact us for more information or to book your walking food tour in Verona:
Do you want to know more? Are you ready to immerse yourself in the gastronomic culture of Verona? We will give you few hints on what to expect from your food tour. But please don't continue reading if you are on an empty stomach.
Aperitif and apetizers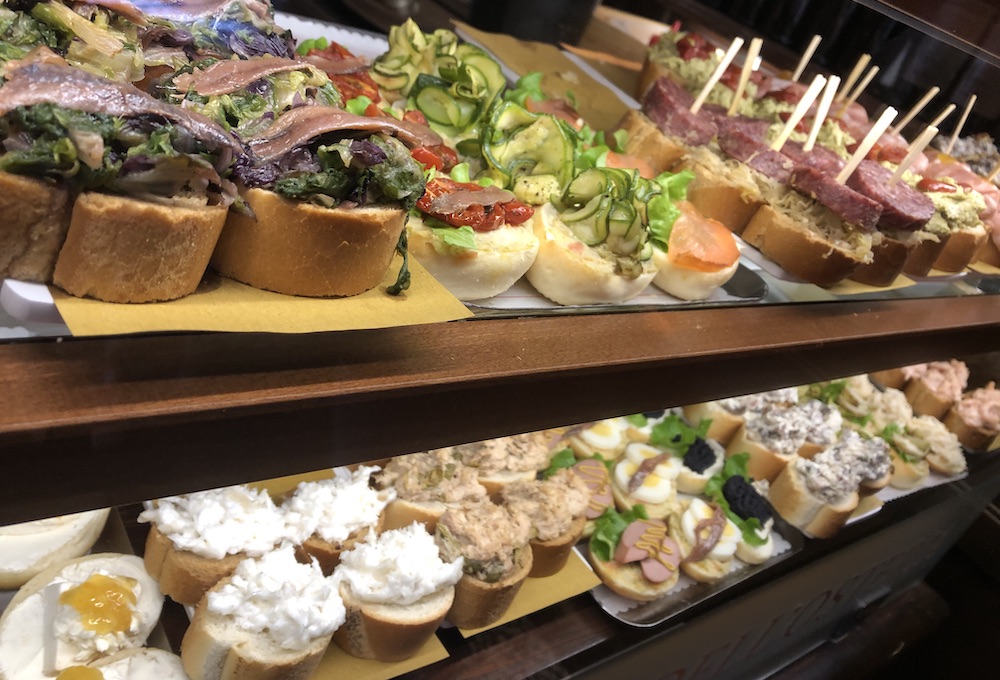 A few glasses of light or sparkling wine, accompanied by small snacks to stimulate the appetite before a meal. The aperitif is a fundamental ritual in Italy, especially in the north. It is so important that, especially at weekends, when old friends meet in the piazza (square), Italians often end up skipping dinner and having long, endless appetizers at the counter of a bar. In Veneto, the typical snacks that accompany aperitifs are tartine or cicchetti: grissini (bread sticks), slices of bread or hard grilled polenta with various toppings. The most traditional ones include raw ham and salami, baccalà mantecato (cod cream), cotechino (pork skin sausage), anchovies, sfilacci di cavallo (dried and smoked horsehorse reduced to thin strips), olive paste, etc.. The perfect aperitif pairing is a glass of Soave, Custoza, Prosecco, or a spritz: 1/3 sparkling wine, 1/3 Aperol or Campari, 1/3 soda.
First course
The typical Italian meal at this point requires a first course. Although spaghetti and macaroni are nowadays a national dish, originally pasta was typical of southern Italy.
In northern Italy traditionally the first courses consists in rice, tortellini, polenta, gnocchi, bigoli.
One of the typical dishes of Veronese cuisine is risotto. In particular, risotto with Amarone, risotto with tastasal (fresh sausage paste and spices) or radicchio (a type of red salad).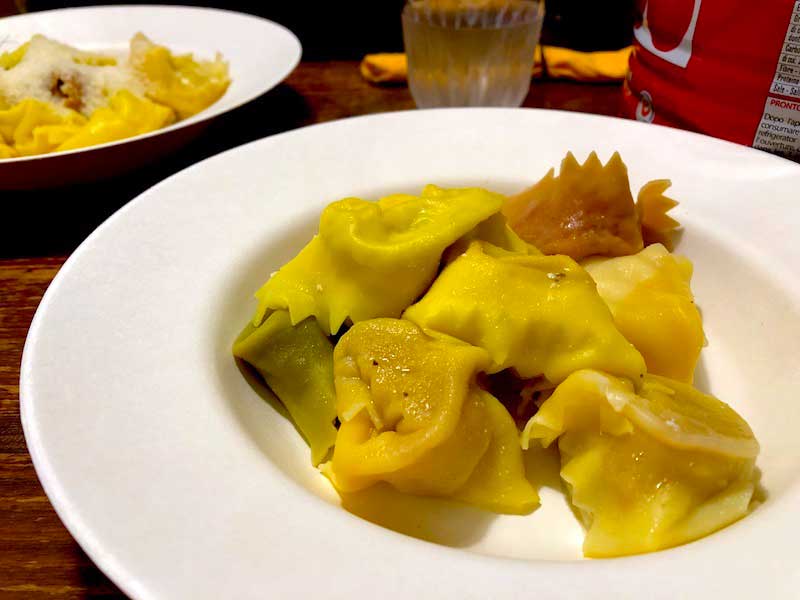 All throughout Italy there are many variations of tortellini and ravioli (stuffed pasta). Those of Verona are from Valeggio sul Mincio. Their characteristic is the sheet of pasta so thin that reminds of silk. The legend has it that the tortellini from Valeggio were shaped after a knotted silk scarf that a river fairy gave to her human lover as a token of love. The filling can be a paste of meat, cheese and spices, pumpkin, truffle with ricotta or spinach, etc.

In Verona polenta (corn mush), as a first course, is typically soft and creamy. It is served hot with cheese, soppressa (garlic salami), or with mushrooms, cod stew, cuttlefish with green peas.
Gnocchi (potato dumplings) are one of the most typical dishes of the Veronese tradition. They are linked to the most important day of the Carnival of Verona, which is not Tuesday as in the rest of Italy, but Friday, called Venerdì Gnocolar (Friday of the gnocchi). At the end of the parade of masks people celebrate with big dishes of gnocchi and plenty of wine.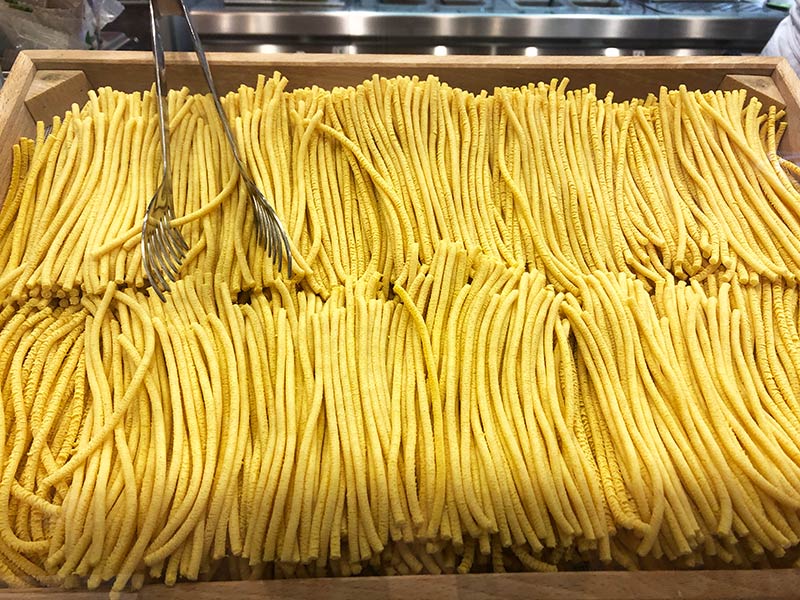 Among the pasta there are bigoli. They are a kind of very thick and pasty spaghetti. They are served with courtyard ragout (rabbit, chicken, guinea foul), duck or donkey stew. Also popular are hand made tagliatelle (noodles), to be served with ragout or in broth with chicken livers.
Second course
If, after appetizers and first course you are not yet full, you can go on with second courses. They are typically meat but there are also alternatives for vegetarians.

A very typical dish of Verona is the bollito misto mixed boiled meat. Different cuts of beef, pork, chicken, offal, sausages. It is served together with a selection of mustards and sauces such as pearà. Pearà is made with bone marrow, toasted breadcrumbs, broth and lots of pepper and, more than any other dish, represents the soul of Verona. Its invention is linked to an ancient medieval legend. Bollito misto is the perfect pairing of Amarone wine.

The other important dish from Verona is pastissada de caval, horse meat stew, spicy and with a thick gravy. Its origins go back to an even more ancient legend concerning the outcome of a historic battle.
Various cheeses and cold cuts can also be a valid alternative to a second course.
Monte Veronese is the most representative cheese from Verona. It is made with milk from free range cows. It comes fresh, medium aged or with very long maturation, up to 40 months.
Cimbro, Verde Veja, Grana Padano and various cheeses aged in wine and marc complete the Veronese dairy range.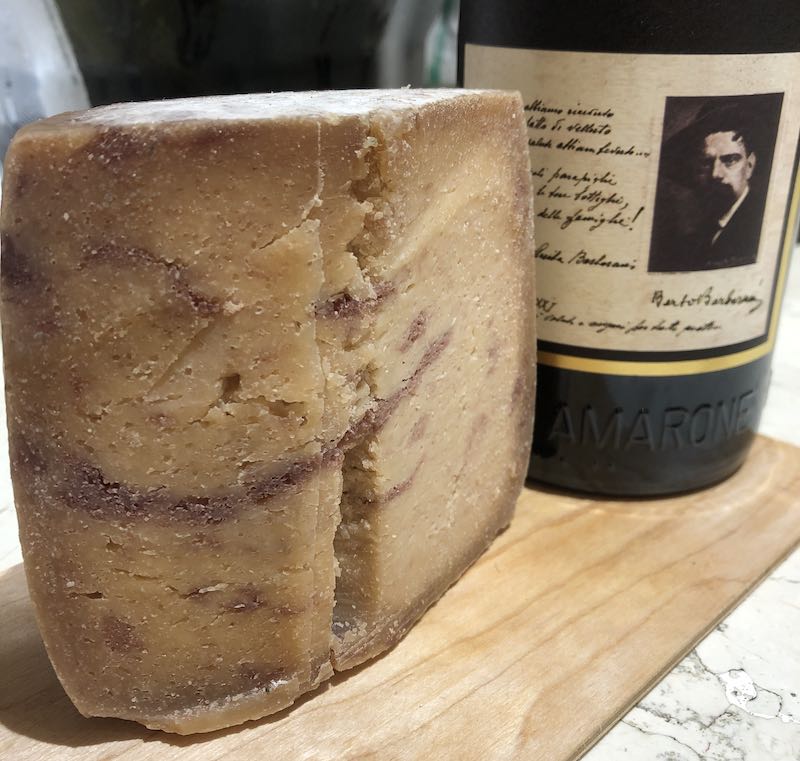 Montagnana and Soave produce two excellent types of DOP prosciutto crudo (raw ham). The DOP mark is the denomination of origin and quality for non-wine food products.
Soppressa is the typical Veneto salami, thick, fat, with lots of garlic.
Carne salà, salted and seasoned meat, halfway between cured and raw, typically from Trentino, is also common in Verona, especially the one made of horse meat.

Dessert
For those with a sweet tooth there is no shortage of proposals. The production of Verona is quite simple, coming from popular tradition.
In Verona was born Pandoro, one of the sweets that nowadays represent Christmas throughout Italy.
Although of Mantuan origin, sbrisolona is also widespread in Verona. It's a dry cake withalmonds that is a perfect accompaniment to Recioto wine.
Despite its name, the torta russa (Russian cake) is typically Veronese. The name comes from the shape that reminds of a Cossack hat. It is made with a mixture of almonds, walnuts and crumbled hazelnuts.
Risini made with sweet rice, zaletti (soft pancakes made with polenta flour and raisins), fritters, are typically sweets for breakfast or special occasions but you can taste them anytime in the many pastry shops of Verona, some of which very historical.
Coffee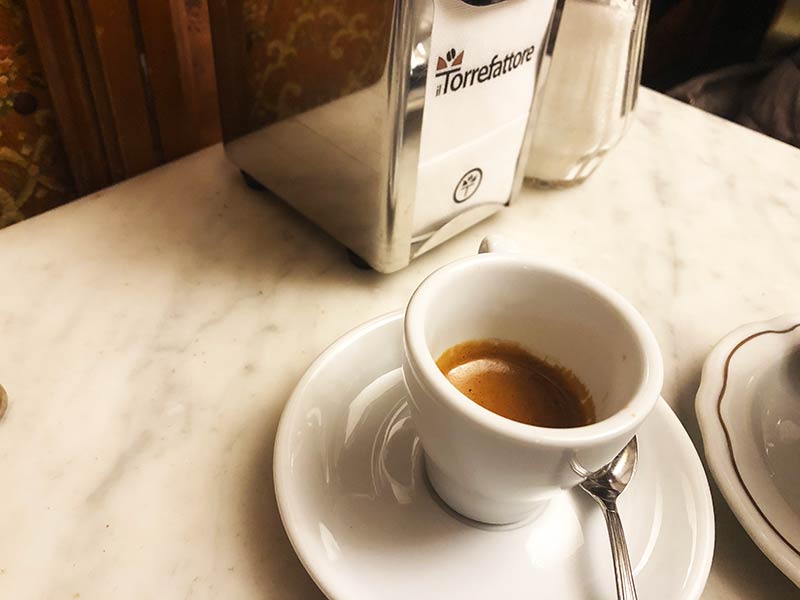 No Italian will ever finish a meal without a good espresso coffee.
We don't know if Starbucks knew how many coffee roasters there are in town when they decided to call one of their coffee blend Verona. Most of Verona's coffee roasters are located in industrial areas or in the province. In the centre, however, there is a micro-roastery where it is possible to assist and experience all the stages of coffee making: selection of varieties and origins, roasting, tasting, blending, brewing.
In any case, in Verona there are many cafeterias where you can try a wide range of espressos and cappuccinos made with coffee beans of different origins, varietals, roastings.
In-depth focus
For those interested in deepening specific thematic areas it will also be possible to focus on one or more gastronomic products: olive oil, grappa, cheese, charcuterie.
Our guides have a long experience in food and wine tourism. Many of them are certified sommeliers, others have undertaken specialisation courses in particular tasting areas and will be able to explain with competence and passion the origin, history and characteristics of the products you will eat.
Supermarket and Grocery store tours

Our food guide can take you to supermarkets, delicatessen shops, show you what Italians buy for special occasion or in different season, the different varieties of vegetables, cheeses, etc, with their pairings and serving recommendations.
Visit the farms and factories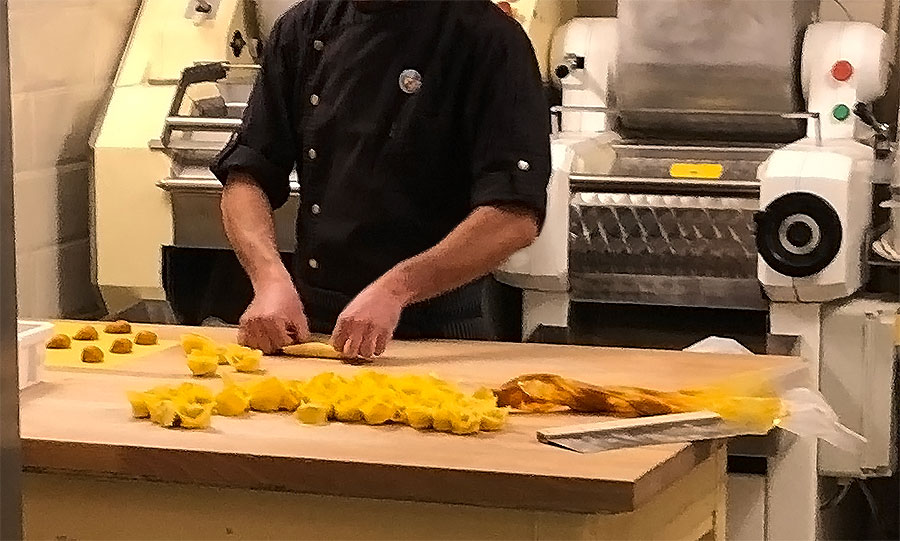 And if you really want to know more and have some more time to dedicate to your food experience in Verona we can take you where the magic happens. With a short drive outside of the city, up in the mountains or in the swamps of the southern valleys you will see how they make cheese and where the rice for risotto grows. You will learn how to make an authentic Italian prosciutto or try to fold your own tortellini.

Our Verona food tour is fun and fully customizable according to your tastes, allergy needs or ethical/religious requirements. Tell us what you like, and we will create an eating tour tailored to your taste.
Book now your Verona food tour.