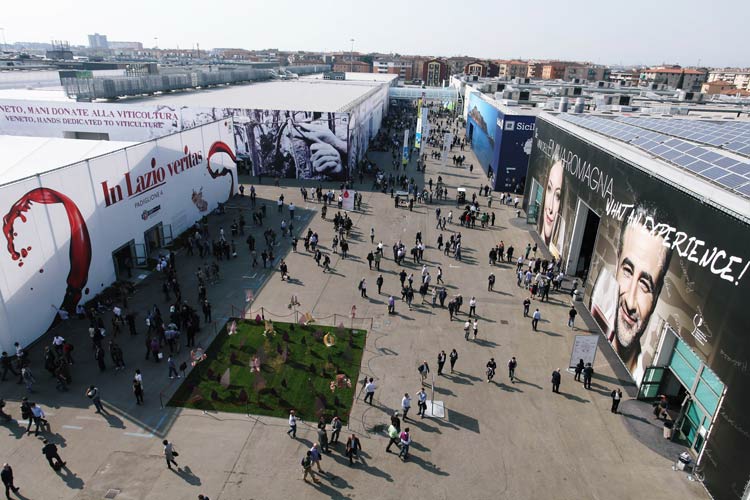 2013 edition of Vinitaly will take place
on April 7th, 8th, 9th, 10th.
Vinitaly is word biggest wine and oenology exhibition one of the most important events in Verona. It takes place every year, usually on the second week of april, from Thursday to Monday. Vinitaly is an incredible event, with more than 95,000 square meters of exhibition areas, 4,500 exhibitors, mainly from Italy but also from many European and new world wine producing countries, 153,000 visitors from all over the world, 2,500 journalists.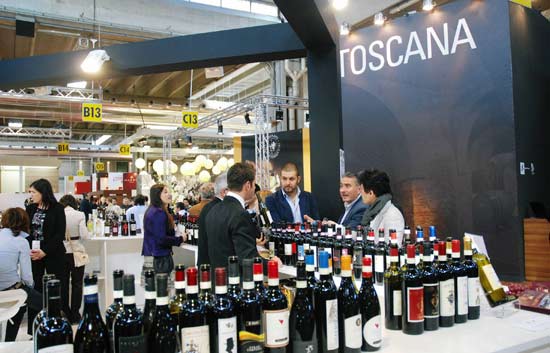 During the four days of Vinitaly, inside the huge exhibition area there will be also many wine related events, tastings sessions, presentations of new products and wineries, wine awards, workshop and meetings with producers and buyers. Vinitaly is a unique chance to deepen your knowledge of Italian wines.
Whether you are a professional sommelier, a wine importer, a restaurant owner or just a wine enthusiast, Vinitaly represents the unique chance to find on display and taste for free thousands of wines from all Italian regions, from the easier everyday wines, up to world top bottles of Amarone, Barolo, Barbaresco, Brunello, Sassicaia.
Together with most important and famous wineries with wide, luxurious stands clearly designed to impress the visitor, you will also find smaller, unknown and family run cellars from all Italian wine producing regions from north to south. There you'll find owners, producers and wine makers so you'll be able to ask them anything you want to know about the wines they produce.
If you really want to have a thorough experience of Vinitaly, two full days are hardly enough and it is better to carefully plan what you want to see and taste. Hotels in Verona tend to be fully booked during Vinitaly so it is advisable to plan your staying many months ahead.
Vinitaly Assitance
Whether you are coming to Vinitaly for business or for pleasure, Amarone Tours will provide you all the assistance you need with:
Transport: pick up from all Northern Italy airport and transfer to your hotel in Verona.
Booking in hotels, restaurant, etc.
Access tickets to Vinitaly.
Interpreting and translations before, during and after the exhibition area. We can provide interpreting and translations services in all main European languages, Russian, Japanese and Chinese.
Winery Tours
While in Verona to attend Vinitaly you can take the opportunity to visit few wineries around Verona before or after the exhibition days. Amarone Tours can organize private tours in all Verona wine producing areas: Valpolicella, Soave, Bardolino, Lugana, Custoza and in other regions such as Franciacorta, Prosecco, Valdadige, Trento. All tours are conducted by expert sommelier guides. Transport on private car with pick up at your hotel in Verona is also provided.
Verona During Vinitaly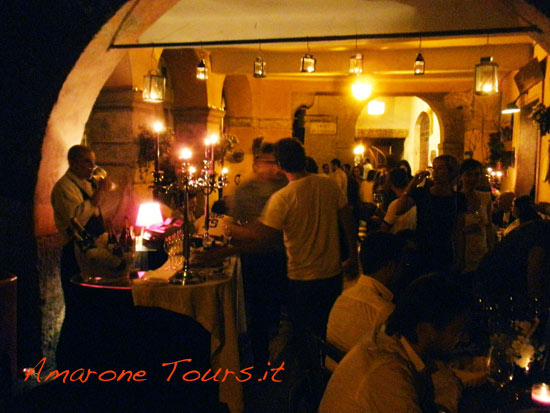 Through the years Vinitaly has become such an important event that the wine fair has extended outside the boundaries of the exhibition center of Verona (Fiera) and now involves the city as a whole. Boutiques in Verona historic center display wines from local producers in their windows.
In the evening, in Verona wine bars and in some public buildings such as Palazzo della Gran Guardia, many tasting events take place in what is called Fuori Vinitaly, litterally Outside Vinitaly. There is a wide variety of opportunity with vertical tastings of different vintages from a single winery, selection of different cellars from a specific wine producing area, traditional or unusual food pairings, wine cocktails, and many other. Do not hesitate to contact Amarone Tours for further details on Vinitaly, related events, guided tours in Verona and in Verona wine producing areas.