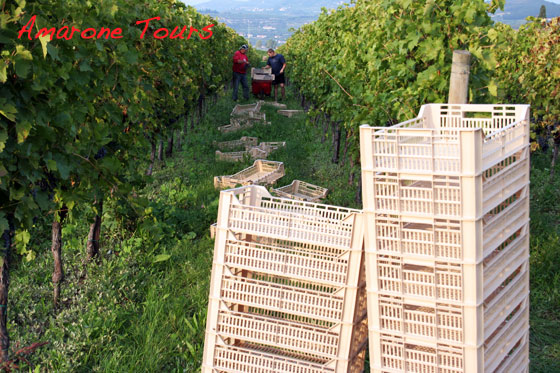 Valpolicella Consortium allowed producers to pressing of dried grapes for Amarone and Recioto from November 19th. A bit early this year but not as much as 2011, even if for different reasons. A part from the lower Amarone line of some big, industrial winery, most cellar will wait probably another month before starting fermentation but we can say that 2012 harvest is now over. Of course it is still early to assess the quality of 2012 Amarone. First bottles will be released on the market around April/May 2015, and fermentation, ageing and other wine making processes will also be fundamental for the final result. Moreover, the qualities of such a long bottle ageing wine like Amarone can take decades to fully develop and express.
Nevertheless, since the quality of a good wine should be mainly made by the quality of grapes it is made with, it is now possible to start assessing and making few predictions on how the 2012 Amarone might be like.
2012 – a tricky year
2012 Winter has been characterized by a very low rainfall and snowfall not only in Valpolicella but in the whole Veneto region, with exceptionally low temperatures that didn't affected vines (when fully dormant vine can easily withstand temperatures below freezing point).
Although below average, Spring in Verona province had sufficient rainfall to grant a regular sprouting and developing.
Like 2003 (that incidentally, for Amarone was a great vintage) 2012 Summer in Italy was one of the hottest in decades, with temperature that easily went above 40°C (104°F), in Northern Italy also. Rainfall in July and August was close to zero and in many areas of Valpolicella vines suffered from drought-shock that caused discontinuos maturation. "Rescue irrigation" was operated by those wineries that had irrigation system. Drought affected differently vineyards depending on the type of soil and on the age of vines. Older vines have longer roots that can find moisture deep in the ground, and the limestone plateau of the higher Valpolicella hills retains water better than pebbles and softer soil of lower Valpolicella.
Rains at the beginning of September brought sugar content in grapes up to the required level but nevertheless crop was -20/-30% for most wineries.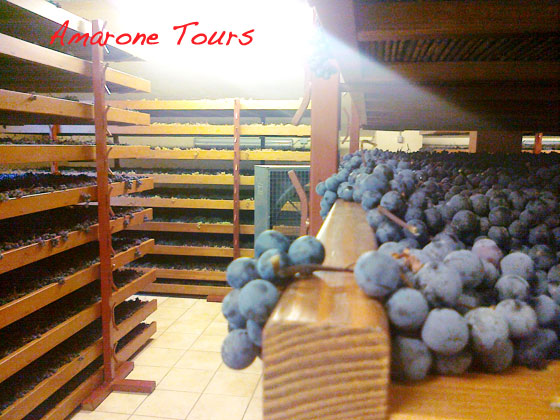 After the drought, September was very rainy, and the picking was done with a continuous stop and go.
In October, the big temperature difference between day and night favoured the developing of good acidity and flavours in drying grapes, but heavy rains and relatively warm temperatures in November caused high humidity levels that triggered off mould on those grapes that had not been perfectly selected.
2012 a vintage to monitor carefully
In the end, 2012 confirmed the curse of years ending with 2 being difficult vintages for Amarone. This doesn't mean that it was like 2002 when most wineries decided not to produce Amarone, but nevertheless quality standards will not be as 2011 that, it is still early to say, will be probably quite high for most cellars.
Amarone lovers will have to choose carefully from which wineries to buy their favourite wine. It is always good practice, when buying a wine, to get as much information as possible on the winery, where vineyards are located, how they grow vines, how they age the wine and so on. For 2012 this will be even more important.
We will continue to monitor carefully 2012 Amarone evolution in next months and years through fermentation and ageing, with tastings and "previews" and regular updates.