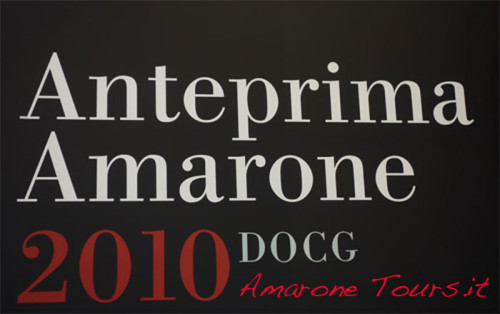 Like every year, at the end of January, the next vintage of Amarone to be released on the market is presented to wine professionals, journalists, and wine enthusiasts. The cost of entrance has increased in recent year to discourage those who would like to go just out of curiosity or as a chance to drink a lot of expensive wine. Entrance ticket was 25 euro per person.
The event is held on the ground floor of Palazzo della Gran Guardia, the old military academy of Verona built in XVII century and now used as a multipurpose center. On the second floor there was a beautiful exhibition of landscape painting from XVII to XIX century including many works by famous impressionist painters such as Monet. The event took place on January 25th and 27th and the Amarone vintage was the 2010. This vintage is particularly important because it is the first that will be released with DOCG certification a stricter set of production rules that should ensure higher quality standards.
At this Amarone Preview participated 58 producers, a relatively small percentage of the 272 wineries that are part of the Valpolicella Consortium, the association that sets Amarone and other Valpolicella wines DOC and DOCG production rules, promotes Valpolicella wines all over the world, and organizes Amarone Preview too. At Anteprima Amarone (Amarone Preview) usually are presented Amarones that have the minimum ageing requirements set by production rules and that normally will be released on the market the same year the event is held. The minimum barrel ageing requirement for Amarone is two years. Although few wineries that have longer aging for their Amarones were at the presentation, most producers among those that do three or more years of barrel aging, usually do not participate. Amarone that will be released in 2, 3, 4 or more years will be too young to be appreciated half way in its maturation process. Also the wineries that are part of the "Famiglie dell'Amarone" (Amarone families) association decided few years ago not to participate Anteprima Amarone. This means that wineries such as Allegrini, Masi, Tommasi, Zenato, among the biggest producers in Valpolicella, were not there.
There is probably more than one reason for this. Many of these wineries usually have longer ageing time for their Amarones or at least have some wines that age for the minimum required and others that age longer. Bringing one wine and not the others, like for example did Bertani that presented its Amarone Villa Arvedi (2 years in barrel) but not the Amarone Classico (6 years), might be a bit confusing for the consumer. On the other side, Famiglie dell'Amarone association decided few years ago to differentiate from Consortium following its own promotional activities.
Amarone 2010
2010 is generally regarded as a quite average vintage. Spring and Summer were quite rainy. This caused an over development of leaves and branches that needed to be pruned. On the other side harvest was relatively dry. Nevertheless there was a reduction in the quantity of grapes that could be selected for the drying of Amarone.
Tasting Notes
In general the wines we tried at Anteprima Amarone had an overall nice balance between acidity, tannins and alcool that anyway, in most cases, was quite high, around 16-16.5%. This high alcool content is a common trend of the past ten years due to increasingly hot Summers and longer drying of grapes. Another characteristic we noticed is a return to more traditional Amarones, with wines a bit less powerful and concentrated and more elegant and balanced. Definitely a good news for those who like to pair Amarone with food.
Most wines were mainly samples taken directly from barrels or bottled few months ago and still in the middle of their period of bottle aging. Therefore it didn't surprise that in many cases tannins were still a bit harsh and aromas not well blended together with spikes here and there. Considering that these Amarones will be ready in no less than other six month (for some 2-3 years) and will have an ageing potential of 10-15 years it is required a big effort for people tasting to assess wines in perspective, tray to figure out how they might mature in the future. To make it easier to understand how a fully mature wine will be, since Anteprima Amarone 2008 producers participating the event are allowed to have on tasting also an older vintage. This time most wineries had the 2008 or 2003.
This year we tried Amarones 2010 from the following wineries: Accordini Stefano, Buglioni, Ca' dei Frati, Corte Archi, Corte Sant'Alda, Fasoli Gino, Gamba, Guerrieri Rizzardi, Latium Morini, Massimago, Monte Cariano.
A nice surprise was the Amarone by Ca' dei Frati, a winery located in southern lake Garda area that is famous for their Lugana white wine. Few years ago they bough few vineyards in the east Valpolicella area and since 2008 they've been producing Amarone. It is often said that white wine makers are good at producing very elegant red wines but the other way round generally do not give good results. Either way Ca' dei Frati Amarone was exceptionally elegant and smooth.
Another very elegant and well balanced Amarone was the Monte Cariano's one. The winery is located in the Valpolicella Classica and although their 2010 will be released on the market only in 2-3 year time, the barrel-sample was already very promising.
We also noticed Fasoli's Amarone, a winery located at the beginning of Val d'Illasi, in eastern Valpolicella. Their Amarone was extremely powerful with 17.5% of alcohol, yet smooth and very pleasant. Fasoli is one of the winery that have been producing organic wines for a long time and, thanks to the new European law that regulates organic wine making and not just organic grape growing, from 2010 they will be allowed to write on the label Vino Biologico (Organic wine). Before the label could only show: "wine made with organically grown grapes". Another very interesting organic winery whose Amarone 2010 we tried at this event is Corte Sant'Alda.
Beside the Amarones, one of the treat of the event is the buffet lunch by Corrado Benedetti, one of the greatest salami and cheese makers in Valpolicella. Those who attended the event had free access to a huge selection of cheese: Monte Veronese of different aging, from the fresh one to the rich 36 months one, Cimbro aged in grape skins, chestnut leaves, sage and rosemary, goat and sheep cheese, ricotta paired with fruit mustard and wine jellies. And then salami: ham and row ham, bresaola, lardo with garlic and herbs, soppressa veneta and much more.
Desserts were provided by Perbellini, the pastry shop owned by the family of starred chef and Master Chef Italia judge Giancarlo Berbellini, with their famous millefoglie stracchin, cantuccini and pepper corn cookies, sbrisolona almond cake, panettone and offella, and since we were already in Carnival period, galani and frittelle.