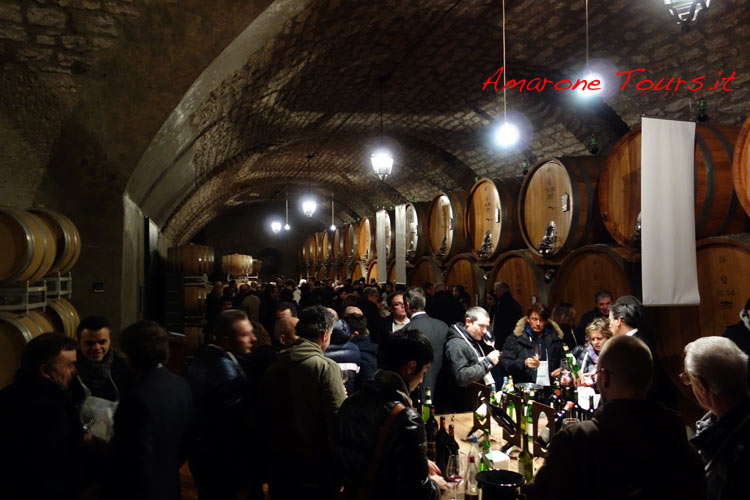 Every year, towards the end of February, Bertani winery opens the gates of its historical headquarter in Grezzana, in Valpantena, just outside Verona, to clients, importers, restaurant owners, wine journalists and friends.
It's a great event attended by hundreds of people who have the chance to walk freely in the wide spaces of the historic cellar, in the fermentation area with traditional wooden vats, old glass lined cement containers and modern temperature controlled tanks, and then in the aging cellar, with the big casks of Slavonian oak and the countless 600 liter "fusti veronesi" barrels in various types of wood: chestnut, acacia, cherry, widely used in the past when oak was rare, and reintroduced recently in the pursue of traditional tastes.
Along the way are set up tasting stands where it's possible to taste the complete line of Bertani wines. This year, the current vintage of the famous Amarone Classico Bertani was 2005. Exceptionally, this year, also the vintage 1975 was on tasting, proving, if proof were needed, the exceptional longevity and developmental potential of this extraordinary wine.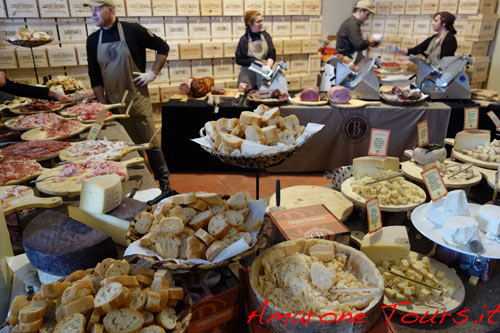 Bertani treated all guests with a lavish buffet with a huge selection of cold cuts and cheeses of various ages, including many varieties of Monte Veronese, and then again risotto, polenta with braised beef, sausages and sauerkraut, all to be paired with Bertani Soave Sereole and the famous Secco Bertani.
The event was also the occasion to announce to the public of professionals and wine enthusiasts two important developments.
The first was the presentation of the new line of Bertani wines, produced according to ancient XIX Century recipes found in the company archives. Even the graphic design of the bottle and lable was taken from that of its origins.
The second is the announcement that from 2013, Bertani, which traditionally has always been a rather reserved winery, will open its doors to all fans who want to visit the winery and try their wines. This is a very important and exiting announcement for all those working in wine tourism. Bertani will certainly become an important landmark in Verona wine tours.