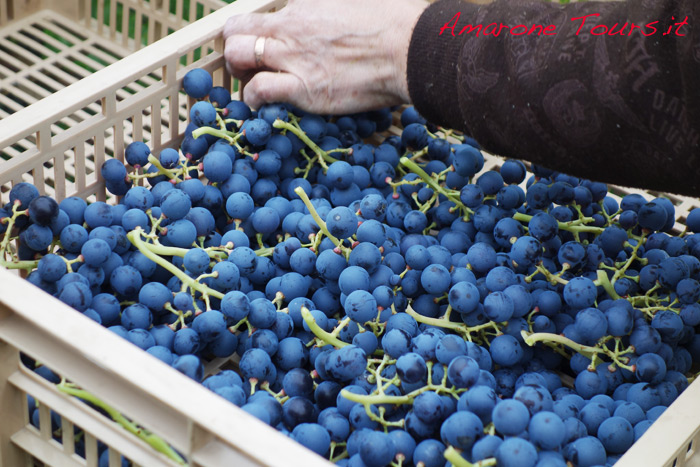 Like every year, the beginning of February is time for our usual Amarone vintage report. Due to the crazy weather that we will discuss later in the post the squeezing of the grapes of Amarone, like all other steps of the process, has been delayed and will be over probably by Valentine's Day in mid February.
As always we do before our vintage reports, we need to stress beforehand that for a wine such as Amarone it is always necessary to wait few years before you can really assess a specific year, no less than 3 (2 in barrel and 1 in bottle), preferably few more before the wine is ready to drink, and other 10 to understand the aging potential of a specific vintage.
Nevertheless the raw material, the grapes, more than anything else determines the quality of a wine. Therefore by analyzing what the weather conditions were like during the year you will obtain quite useful information to assess the future of an Amarone.
Another important preliminary remark is that you have to mistrust all those winery owners, wine makers, marketing managers of big cellars, wine critics, etc., that every time say that a year will be a great vintage. You never have to lie to the consumer, whether he is a wine expert or not. If a vintage was not particularly good, you have to admit it with no hesitation. It is very important to create a trust relation with all those who love Amarone, not just between them and a specific cellar, but with the whole producing area: Valpolicella. They will appreciate good vintages, average ones and will get enthusiastic about the real memorable ones.
The last important remark is that, if the wine-maker decide to make Amarone (and some times they decide that the year do not allow to do that), the result will be up to the hard quality standards required by quality certification, without which they cannot market the wine. These quality standards are improving every year, especially since the introduction of DOCG quality label in 2010 vintage. It is almost impossible to find a bad Amarone on the market. You will find good Amarones, excellent Amarones and average ones, but you will never be disappointed by your wine.
2013 Weather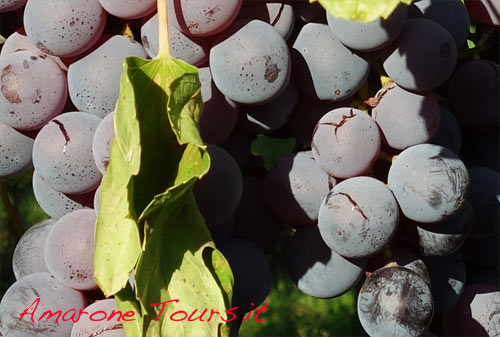 After this long introduction let's see how the year 2013 was.
Winter was particularly long, with cold temperatures until the end of March. Consequently vegetative phase started in second half of April avoiding the risk of Spring frost. Nevertheless Spring remained cool and wet, with quite heavy rains that continued until the first half of June. This caused an unusual growth of shoots and leaves. Rain and cool temperatures during flowering caused also a reduced pollination. This is usually considered positive since grapes clusters with less berries are ideal for Amarone and Recioto production because they dry easily and uniformly.
End of June and beginning of July have been characterized by intense heat and insolation. Those producers that anticipated pruning to reduce the excessive development of branches and leaves caused by Spring rains, especially those that have guyot trailing system, suffered some sunburned bunches.
August was relatively stable, dry and not too hot, similar to the type of Summers that were common in Italy until 15 years ago. Temperature variation between day and night was also quite high and many producers foresaw a good development of acidity and aromatic substances, possibly signs of a great vintage.
Unfortunately the end of August and beginning of September brought few violent hail storms, especially in Valpolicella Classica. Some vineyards were completely devastated, especially the lower end of Negrar valley and the lower stripe that links Pedemonte with San Pietro in Cariano along the main road.
Due to the long Winter, the rainy Spring and relatively cool August, full ripening of grapes was very late compared to the average of the last decade. Most wineries started harvest between the end of September and the beginning of October, when weather started to become unstable again. It is not possible to pick grapes when it rains. Vine roots absorb water, diluting sugar content and other substances inside berries and wet clusters cannot be dried for the production of Amarone. It is usually necessary to wait at least a couple of days after rain to resume picking. Harvest continued with starts and stops until the end of October. Continuous raining prevented the regular conclusion of harvesting, especially for what concerns the selection of grapes to be used for Amarone and Recioto.
In the end there was an average production decrease of about 20-30% that, in some cases reached even 50%.
With the end of harvesting weather conditions didn't improved much with rains, humidity and relatively high temperatures until the end of November. This didn't helped the drying process. Mould and rot developed easily, especially on the last grapes harvested, richer in water and with thinner skins.
Things were a bit easier for those producers that uses drying centers with humidity control.
With December temperatures eventually dropped and rain stopped with a progressive stabilization of drying conditions for those grapes that had "survived".
2013 Forecast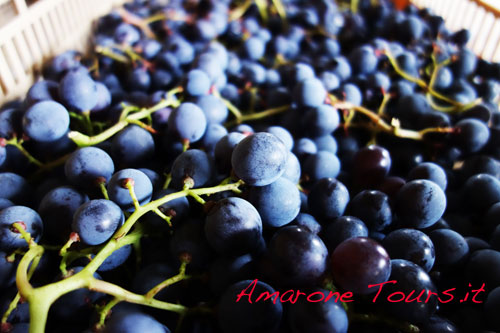 In the end the 2013 Amarone vintage has been characterized by lights and shadows. Until August it had the potential to be a great vintage for all but September hail and rain spoiled the plans. In the end, grapes that reached the end of drying process should have a quite good quality, but quantity will be reduced.
In any case quality will depend on the location of vineyards. This is always true but for vintage 2013 it will be particularly important. Those grapes picked in area where maturation was a bit anticipated were less affected by rain.
Another important factor will be drying process. Those wineries that used humidity controlled room will probably have a higher production with good quality.
Before buying it is always a good rule to know in depth the winery that produces an expensive wine like Amarone: were the vineyards are located and which wine-making technique are used, and it is even more important in those difficult vintages like 2013. But most important of all it is the honesty of a winery that will tell us the truth about their wine and the trust we have in it.