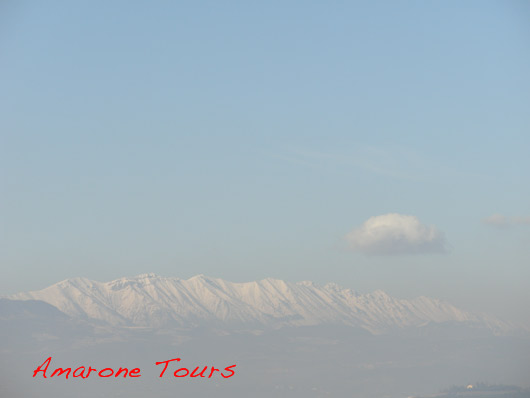 Winter has arrived in Valpolicella too and this year is particularly cold. At the beginning of December temperatures reached -10 C (14 F), unusually cold for the area.
Mount Baldo is completely covered with snow. With its 2219 meters is the highest mountain in Verona district. It represent the west border of Valpolicella. Behind mt. Baldo there's lake Garda and Bardolino wine producing area.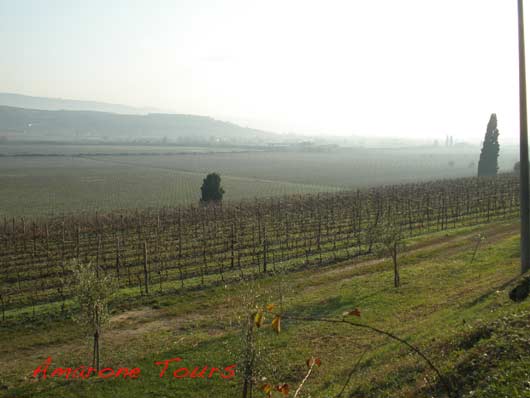 No leaves are left on the vines in Valpolicella vineyards. December is one of the quiest month for farmers and wine makers. Soon winter pruning will start. It is very important activity because through pruning, vine growers can decide how many bunches the vine will produce.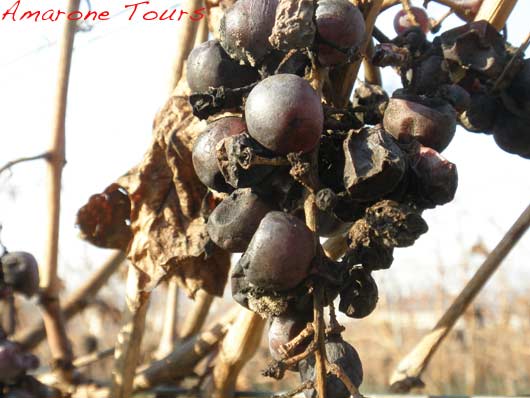 During harvest, grapes for the production of the Amarone are selected first. The second selection is for the Valpolicella Superiore. The last picking is for the grapes that will become Valpolicella Classico. Grapes that are not considered good enough to become Valpolicella wines are left on the vines. They'll become an important source of food for wild birds.
Marogna is the stone wall you find on the terraced vineyards. It helps to sustain the soil on the slopes of Valpolicella hill. It looks bare with the leafless vines.
Mould devolops on Corvina bunches left on Valpolicella vines in Winter.
At the beginning of each line of vines you often find a rose bush. It is a very delicate plant and it usually gets pests and desease before the vine so that farmers can anticipate treatments. The last flowers were cought by the morning frost.