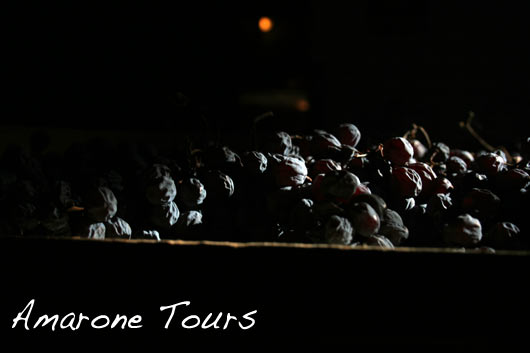 The last few bunches of 2011 harvest have been picked in Valpolicella.
In big stainless steel vets, the fermentation of Valpolicella Classico is almost complete while the grapes for Amarone and Recioto wines are drying on river reeds racks or plastic crates piled up in lofts and grainaries under the roofs of wineries.
Corvina, Rondinella, Molinara and othe grapes varietals used in the blend that constitutes all Valpolicella wines, in the four month of drying loose up to 40% of their water content. With 100 kg of fresh grapes you obtain 70 liters of Valpolicella. With 100 kg of fresh grapes, at the end of the drying period and the ageing in barrels you will obtain only 20 liters of Amarone, just 15 bottles!
Recent studies discovered how the drying process is not just simple dehydration but the stress of water loss, activates genetic portions of grapes DNA that develop particular aromatic substances. This happens especially in Corvina, the most important grape for the production of the Amarone. Of course, old wine makers knew that by experience, but DNA tests proved it scientifically.
Racks Vs Plastic Boxes
The drying is done either done on river reeds racks or in plastic boxes. Each method is allowed and has its pros and contras. River reeds are natural materials that can absorb excess of humidity. Surface contact between berries and round reeds is smaller, ensuring a better air circulation. Distance between each rack is quite wide so it is possible to better check grapes for unwanted moulds, especially during the first stage of drying, when water content is higher in grapes and temperatures are still quite high.
On the other hand, grapes laid inside plastic boxes in the vineyard do not need to be moved again on racks preventing bruises and demages of grapes bunches. Plastic boxes are easier to wash reducing the risk of leaving mould spores, unwanted foul smells, etc.
The drying process is totally natural. No temperature control is allowed by Amarone DOCG production rules. In some wineries, in particularly humid days or when natural breeze is scarce, use big fans to ensure a proper air circulation.