In these first days of January 2019, BIBENDA, one of the most authoritative Italian wine guides, was published. For those interested in other Italian wine guides, there is the "Espresso" guide, belonging to an important publishing group, and "Gambero Rosso" guide, which refers to the group that created the Slow Food movement. Then there are also guides by famous food and wine critics and sommeliers such as Luca Maroni, Luca Gardini, Bruno Cernilli, etc..
Bibenda guide refers to Fondazione Italiana Sommelier (FIS), a group that few years split from major Associazione Italiana Sommelier (AIS). It is known that Italians, since the Middle Ages, have liked to divide themselves into opposing factions, and spend a lot of their time in fratricidal feuds fuelled by hatred and rivalry. The world of wine is no exception and between divisions, mergers, etc., there are now quite a few sommelier associations: AIS, FIS, ONAV, FISAR, etc..
Bibenda is a Latin word that means more or less "Things that must be drunk". The guide reviews about 20,000 Italian wines, by about 2,000 wineries divided by region.
As an evaluation system, the guide assigns "grappoli" i.e. "grape bunches" (the other guides use glasses, bottles, stars, etc.). Top wines are assigned 5 bunches that correspond to an evaluation between 91 and 100 points. For some years now, the guide has only been released in the digital version.
Although quite short, the descriptions of wines are always rather courtly and with very sophisticated descriptions of aromas and flavors. At the end of each review there is a food paring suggestion.
Although in the past Bibenda often proved to be stingy in terms of bunches and evaluations towards Valpolicella, this year's special ranking of the best 10 wines includes Amarone 2010 from the Trabucchi winery in Illasi, in the extended Valpolicella area.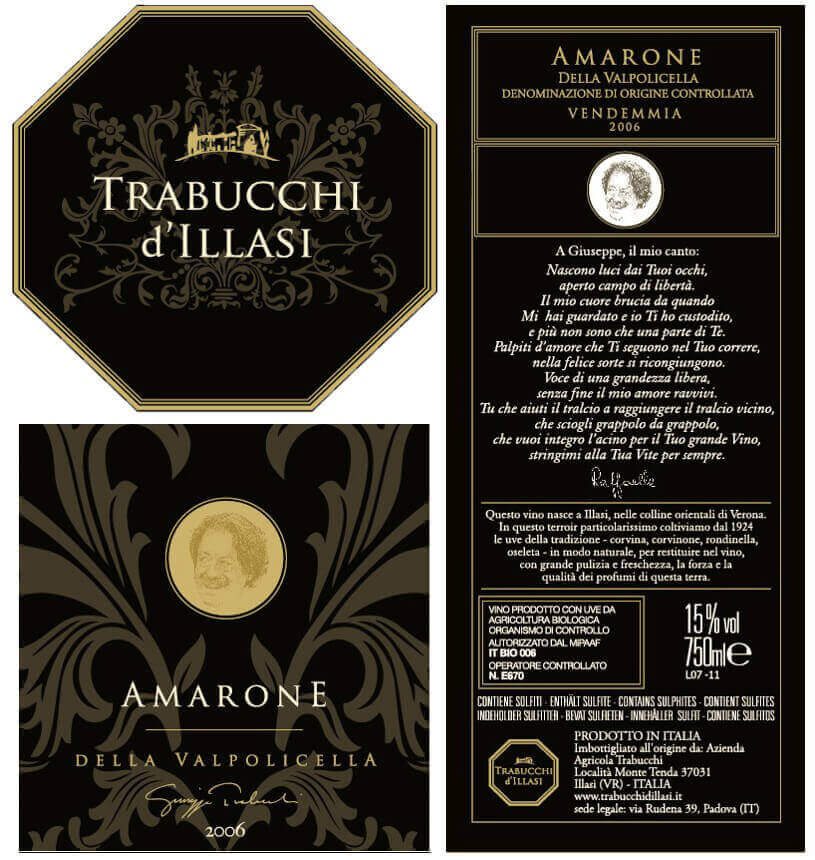 Here are the tasting notes from the guide:
"Dark in its ruby red dress tending towards garnet, with excellent consistency. To the nose it offers intense aromas of wild berries jam, marasca cherries and ripe plums, dried red roses, cigar box, cinnamon and hints of graphite, ending with Boero chocolate and a breath of ethereal. The palate is very thick, enveloping in softness, decisively warm without excesses, calibrated freshness, velvety and well-present tannins. The finish is long and well defined. Ages in steel for one year, then in barrique for 36 months. Rest in bottle for 2 years.
Food pairing:
Donkey stew with polenta."
In addition, 20 other Amarones were awarded with 5 bunches.
Amarone 2013 Villa Rizzardi di Guerrieri Rizzardi
Amarone 2014 Monte Zovo
Amarone 2010 Bertani
Amarone 2014 Allegrini
Amarone 2014 Stefano Accordini
Amarone Capitel Monte Olmi Riserva 2012 Tedeschi
Amarone Ca' Florian Riserva 2011 Tommasi
Amarone De Buris Riserva 2008 Tommasi
Amarone Costasera Riserva 2013 Masi
Amarone Mazzano 2011 Masi
Amarone Riserva 2006 Valentina Cubi
Amarone Sergio Zenato Riserva 2012 Zenato
Amarone TB 2009 Tommaso Bussola
Amarone Terre di Cariano Riserva 2013 Cecilia Beretta
Amarone Col de la Bastia Riserva 2014 Fattori
Amarone Famiglia Pasqua Riserva 2010 Pasqua
Amarone Fondatore 2015 Montresor
Amarone i Prognai 2011 Fratelli Giuliari
Amarone Leone Zardini Riserva 2011 Pietro Zardini
Amarone San Floriano Riserva 2011 Brigaldara
We're not big fans of wine guides in general. We believe that the appreciation and evaluation of a wine are too subjective and influenced by moods and moments to make them objective and absolute.
Moreover, the economic interests behind the guides are enormous. A top score by a prestigious guide or an authoritative critic can determine the economic fortune of a winery. We do want to believe that evaluations are always honest and sincere, but when there is temptation there can also be those who end up being tempted, even if only unconsciously. And big wineries can make a lot of pressure.
In any case, all these high scores for Amarones by a guide who has often favoured wines from  Tuscany, Piedmont or emerging southern Italy cellars, are positively surprising. This excellent result can perhaps be explained by the wine making trends of recent years which are gradually bringing Amarone back to being an elegant and austere wine as traditionally  it should be. After the excesses of wood taste caused by the overuse of barriques in the 1980's and 1990's and the cloying softness and concentration of the 2000's, Amarone is finally finding its right balance, also thanks to the ageing process that is extending its lenght with the "Riserva" versions of many famous producers.
Another positive note are the few 2014 vintages that have obtained the 5 bunches. This means that, despite the bad weather conditions of that year, the few wineries that decided to make the wine anyway had enough courage and confidence in the potential of their grapes to produced quality Amarones.