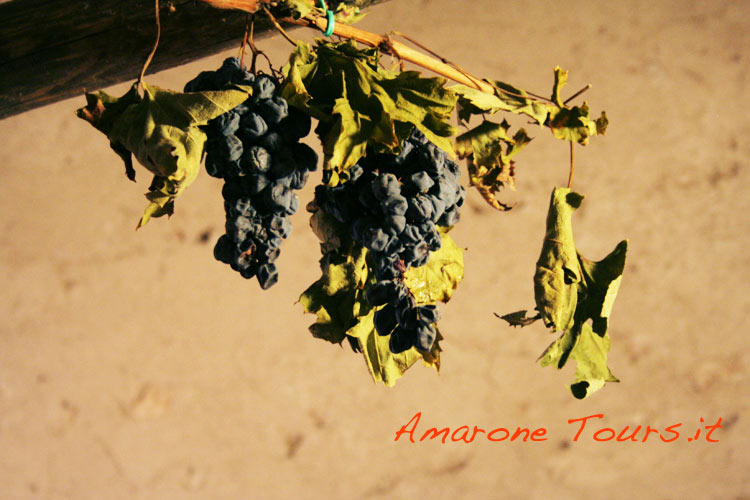 The winter was quite cold and rainy. It's February and temperatures continue to be relatively chilly, with temperatures few deegrees above 0°C (32°F). The last dried grapes for the production of Amarone and Recioto have been pressed. For the 2012 vintage, many wineries have done the pressing in December, but there are cellars that, in the pursue of for more concentration and complexity, have prolonged drying in the fruttai, the lofts specially equipped for the drying of grapes.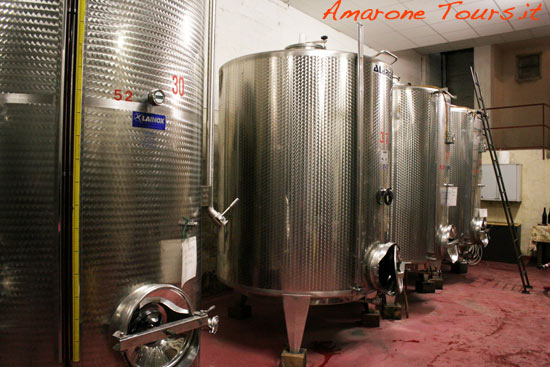 The must is inside fermentation tanks, full of the sugars naturally developed inside grapes during maturation and concentrated by the drying process. Companies seeking the absolute control of the production have added selected yeasts and are now maintaining temperatures inside the tanks to the desired levels with a system of cavities around vats inside which flows glycol, a fluid that can be heated or cooled as desired by a computerized monitoring system.
On the other side, most traditional wineries rely on indigenous yeasts naturally present on the skin of grapes. Cold temperatures slow down the action of yeasts that gradually activate and multiply inside the must. This is one of the secrets of Amarone. In winter, cold temperatures slow down the whole process, allowing a greater preservation of perfumes that, with most tumultuous fermentation due to high temperatures, would be likely to burn.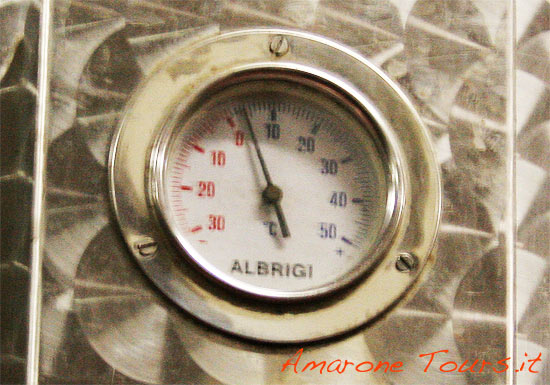 Each tank is equipped with a thermometer indicating the temperature of the must. At the moment they mark less than 10°C (50°F). As soon as the internal temperature begin to rise it will be the sign that fermentation has begun. Yeasts, "eating" the sugars in the must produce alcohol, carbon dioxide and, as a result of their activity, heat. In the middle of fermentation temperatures can reach and exceed 20°C (68°F). It is still a relatively low temperature compared to those that can be reached in October-November during fermentation of Valpolicella. For Amarone however, with the lower temperatures of February, the fermentation continues slowly and steadily.
While the cycle of production of Amarone 2012 is in full swing, a new cycle, the 2013 vintage one is just beginning. In fact we are now in the middle of pruning in vineyards. It's a very crucial moment since it is now that wineries decide how the plant will develop in spring and how much grapes it will produce, thus determining to their quality.