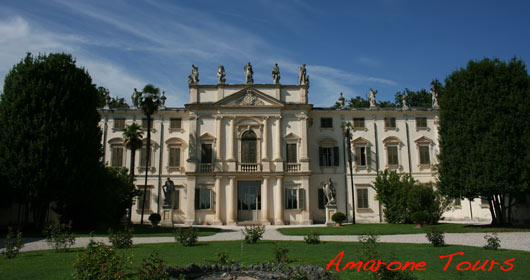 Bertani is one of the oldest and most traditional winery in Valpolicella. It was founded in 1857, older that Italy as a country, in Valpantena, an important wine producing area on the Eastern side of Verona territory, nowadays included in the extended Valpolicella area. The two brothers who founded the winery introduced very innovative wine making techniques for that time, and their wines became soon famous not only in Italy, but also in other European countries.
In 1958 they bought an historical estate in Valpolicella classica: Villa Novare, where our visits are conducted.
Novare extends over more than 500 acres of which 160 of vineyards. The rest is left as wood, parks, olive groves. At the center of the property is Villa Novare, a 18th century villa with painted ceilings, statues, side wings, a private chapel, etc.
Today Bertani follows a very traditional method in the wine making of its Amarone: grapes are dried on racks (arele) made of river reeds, and Amarone ages 6 years, one the longest ageing wine in Valpolicella, in big Slavonian oak barrels, 1 year ageing in bottle before the release on the market.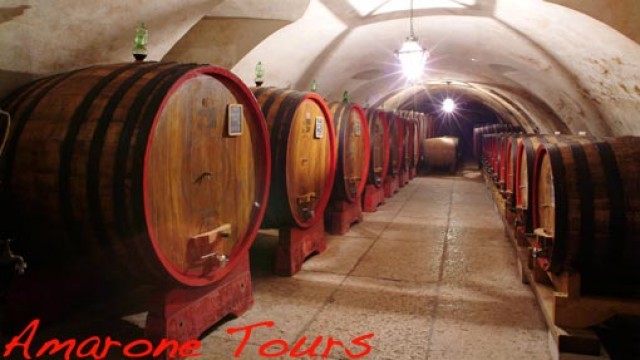 The winery tour at Bertani is very thorough: it includes a visit of vineyards, and park, a visit of the villa and of the historical cellar. The visit also includes a visit to drying lofts that in this period are full of grapes drying. The perfume of drying corvina is amazing.
The tour of the estate is followed by a tasting of a selection of Bertani's wine. In this period the Amarone on tasting is the 2003 vintage. The year was characterized by an incredibly hot and dry Summer that reduced drammatically the production. Only grapes coming from vineyards high on the hills, where temperature were milder, were able to mature properly with a very high sugar content. In some wineries they obtained wines of more than 16% of alchol.
Bertani Amarone Classico 2003 is very powerful and rich wine, with hints of cooked cherries, dried plums and an almost balsamic finish. It would need probably other 4/5 years to be at his best gaining more roundness. Bertani's wines are among the longer ageing wines not only in Valpolicella. In their wine shop they still have on sales vintages from the '60s.
Allegrini Winery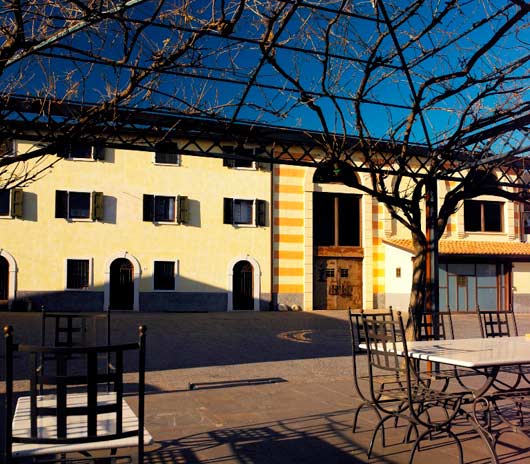 The second winery of this half day winery tour in Valpolicella is Allegrini. Compared to Bertani, Allegrini looks more like a modern winery in the sense that they pursued the philosophy of combining tradition with innovation. It is the perfect combination with the visit and tasting at Bertani, giving the chance to compare two different approaches to wine making in Valpolicella.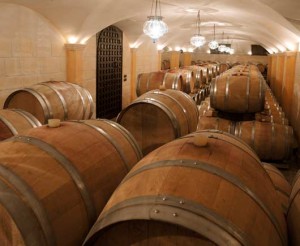 They where among the first to introduce the French oak barrique in Valpolicella in the '80s, the concept of single vineyards (like French crues), the drying of grapes in temperature and humidity controlled centers, the 100% Corvina grape wines that now are becoming quite popular among wine lovers.
Informal tours and tastings are always possible at their "show room". The visit includes a quick tour of their barrique cellar. Hundreds of 225 liters barriques are nicely lined up in the beautifully lit underground cellar where visitors are overwealmed by perfumes of sweet butter and spices. Down to the second level of the cellar guests will have the chance to see the huge Slavonian oak casks where wines finish their ageing before being bottled.
The tour is then followed by a tasting of a selection of Allegrini wines. Of course it will be interesting to compare Valpolicella Classico and Amarone but also to try Allegrini original wines such as Palazzo della Torre, Allegrini interpretation of the ripasso and double fermentation technique and among their best sellers, and La Poja, Allegrini's unique 100% Corvina grape wine.