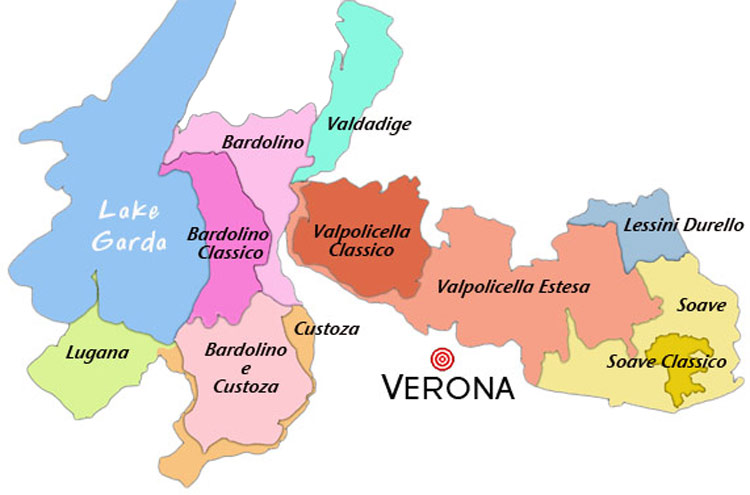 Veneto is Italian biggest wine producing region (8.1 million hectoliters in 2008) with around the 20% of national production. A big portion of the production is constituted by DOC and DOCG, Italian top quality labels wine.
The territory around Verona is probably one of the most interesting. In its province there are some of the most historical areas of world wide famous wines such as Valpolicella (Amarone), Soave, Lugana, Bardolino, Custoza, Durello, that can be reached in less than 20-30 minutes drive.
In the center of northern Italy, Verona is also close to some other important wine producing areas such as Prosecco, Franciacorta, Valdadige.
Valpolicella
Valpolicella is one of the oldest wine producing areas in Italy. Romans cultivated the vine here more than 2000 years ago. The name Valpolicella is probably coming from the Latin words Val Polis Cellae meaning valley of many cellars.
There are documents proving the production of a sweet wine made with dried grapes similar to the Recioto at least from the V century. Today Valpolicella is famous mainly for the dry Amarone also made form dried grapes.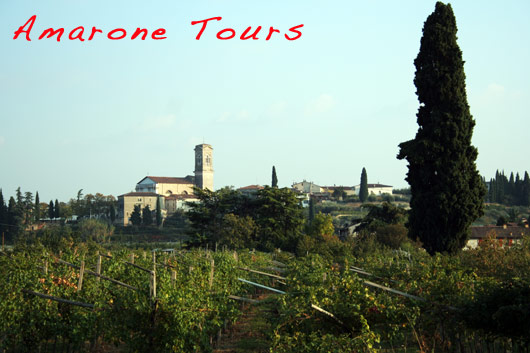 The Classica area is a small territory of hills and valleys north-west of Verona between the town and lake Garda.
In recent years, in order to meet the increasing demand of Valpolicella wines the producing area has been expanded and is now covering alle the hills north of Verona from the border with Bardolino wine producing area on the west and Soave on the right.
Both Valpolicella Classica and the Extended Valpolicella are historical areas, inhabited for thousands of years. Beside the wineries they offer a wide variety of interesting attractions ans sites: Renaissance and Baroque style villas, Romanesque parish churches, castles that can contribute in creating an unforgettable guided itinerary.
Further information on Valpolicella wine producing region >>
Soave
Soave is the most exported Italian white wine. It is produced around the historical villages of Soave (from which the wine takes the name) and Monteforte d'Alpone, in the Eastern side of Verona territory.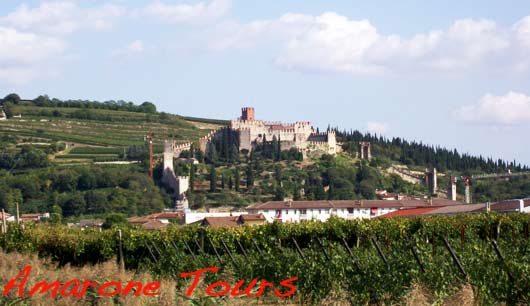 Especially Soave village, since Roman time, has been an important strategical post along the via Postumia, the main road linking the north-east (Aquileia) with the north west (Milan-Genoa) of Italy.
In the middle age, an impressive castle was built on top of Saove hill by the Scala family, the family that ruled over Verona territory from the end of 13th century until the end of 14th century. The Castle with its keep and the walls embracing the whole village is still beautifully preserved and can be included in a guided itinerary in eastern Verona wine producing area.
Olive oil is also a major product of this area, and many oil mills (frantoio) in the area can be visited and offer guided tasting sessions of their most representative products.
Further information on Soave wine producing area >>
Bardolino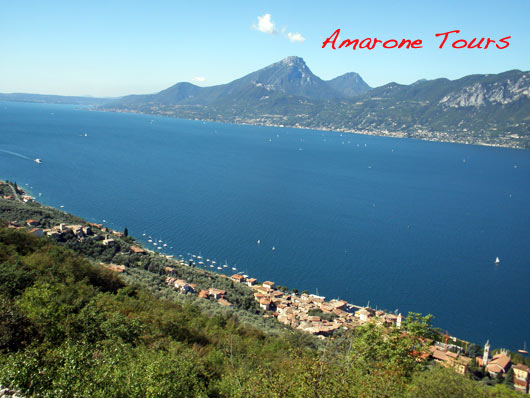 Bardolino wine producing area is one of the most fascinating territory in Italy with its complexity made by lake Garda, Italy biggest lake, the hills surrounding it and the changes made by men in more than 30.000 years of human settlements.
The big mass of water of the lake helps creating a sort of Mediterranean climate where olive, lemon, palm trees and of course the vine can thrive.
A Bardolino winery tour also offers the chance to visit lake Garda area, with its breathtaking landspapes, its middle age castles (Lazise, Bardolino, Torri del Benaco), Renaissance villas (Punta San Vigilio), Romanesque parish curches (San Severo), oil mills and much more.
Further information on Bardolino wine producing area >>
Lugana
Lugana is one of the most interesting Italian white wine that in recent years has become extremely popular, both in Italy and abroad. Lugana small wine producing area is in the southern part of lake Garda, just between the coast and the morainic hills that surround it. A wine tour in Lugana area can also include a visit to Sirmione, one of the most beautiful villages of Garda, on a thin peninsula stretching over the blue lake, or to Borghetto, with its typical water mills along the Mincio river and the famous tortellini (dumplings filled with meat).
Further information on Lugana wine producing area >>
Custoza
Custoza is a nice, fresh, light white wine produced on the morainic hills that surround the southern part of lake Garda. It takes the name from a small village that every Italian student knows because near it, a very violent battle for the independence of Veneto
Beside the monument that recall this important event in Italian history, the whole area is now characterized by series of beautiful and green hills covered by vineyards, olive groves and cypresses.
Together with wine tours, in Custoza it is also possible to taste the delicate local cuisine, relax cycling on various bike tracks and hiking on the hills.
In recent years Custoza and the whole lake southern area are becoming popular as golf resorts. was fought in the 19th century by the newly born Italian Kingdom and the Habsburg Empire that occupied the north east of Italy.
Prosecco
In recent years Prosecco is the wine that, faster then ever, has become one of the most popular spumante (sparkling wine) in Italy and abroad. It is a light, fresh, inexpensive and very nice drink, and it owes its success to its simple but tasty character.
Prosecco is produced in a wide area on the hills of the eastern side of Veneto region, especially around Treviso, Asolo, Valdobbiadene, less then 2 hours drive from Verona.
Franciacorta
In recent years the classic method sparkling wines produced in Franciacorta have scored higher than many French champagnes in Iternational competitions. Franciacorta wine producing area is a small, hilly region on the north-east side of the city of Brescia, one and a half hours drive from Verona.
Wine Tours
Amarone tours provides escorted winery tours in all Veneto and Verona wine producing regions. We arrange fully customizable winery tours including transport, English speaking sommellier guide, booking in wineries. Do not hesitate to contact us for your tailor made wine tour.
You can send send us an e-mail at:
info@amaronetours.it
or call +39 389 983 5269.